I noticed earlier this week that Samuel L. Jackson made some sort of rally video for the Atlanta Falcons. I didn't bother to watch it because, frankly, the Atlanta Falcons suck and so does Samuel L. Jackson.
That's right. I said it. He's played himself in every damn movie he's ever been in and the last time I could tolerate him was in Pulp Fiction, and that was released in 1994.
Anyway, this got me thinking about celebrity fans of the Green Bay Packers.
And so I started doing some research.
And so you get this list of the top 15 celebrity Packers fans.
I wasn't quite sure how I wanted to put this together. Should overall celebrity take precedence, should coolness factor play a role, or should demonstrated devotion to the Green Bay Packers be the top qualification?
In the end, I went with a combination of the three, figuring a has been or someone who just plain sucks, but is famous because the masses generally have poor taste, shouldn't be ranked highly on the list just because they are a huge fan. At the same time, the celebrity should have more than a passing interest in the Green and Gold.
This list probably isn't perfect. It's hard to find celebrities who have a stated allegiance to any sports team, mush less the one in the smallest NFL market. Saying that, there seem to be quite a few celebrity Packers fans.
Ed. note: Yes, this list is now 16 people because it was brought to our attention that David Ortiz is a Packers fan after we compiled the original list of 15 and, well, we didn't want to take Dawson off the list. He sports the colors and tailgates at Lambeau just like the rest of us, so we think he deserves a spot, even if it isn't technically on the list.
16. James Van Der Beek — Van Der Beek is from Connecticut, so he's one of those people who didn't have their own NFL team and had to choose one from somewhere else. He made the wise decision of choosing the Green Bay Packers. Van Der Beek is most well known for playing a dude named Dawson, who apparently had a creek or something like that, but he's also been in a couple of decent movies. In Varsity Blues, he played a high school quarterback and choose to wear the No. 4 in that film in homage to some shitbag who used to play for the Packers. He was also in The Rules of Attraction, an adaptation of a Bret Easton Ellis novel, which I mostly remember for featuring Shannyn Sossamon. Van Der Beek gets points for both having attended a Packers game and for sporting the colors.
15. Greta Van Susteren — She might be higher on this list because she was born and raised in Appleton, but she works for Fox News, home to conservative hacks like Glenn Beck, Bill O'Reilly and Sean Hannity. Nonetheless, Van Susteren has been wildly successful, currently hosting her own show, On the Record w/ Greta Van Susteren. If you recall, it was Van Susteren who got THE interview with Brett Favre when he asked the Packers for his release. Despite being a fixture in Washington D.C., Van Susteren says she still follows the Packers and she also owns team stock.
14. Pat Morita — Unfortunately, Pat Morita died in 2005, but he will forever be remembered by us 80s kids as Mr. Miyagi in The Karate Kid films — when those films were actually about karate and not kung fu. Other than that, Morita was mostly a bit player, but one you would recognize on TV shows from Happy Days to Baywatch. Morita was born in California and it isn't clear why he was a Packers fan, but it's right there on his IMDB page. If he were alive, we suspect he could kick the ass of most other people on this list.
13. Larry The Cable Guy — I'll admit it. I don't find Larry The Cable Guy funny… or cool, but then, I don't like rednecks or redneck humor. On the other hand, the guy is definitely famous and he's also a solid Packers fan. For those of you who aren't familiar, Larry The Cable Guy is the comedian who says "Git-R-Done!" And hell, sometimes we all need to Git-R-Done! Anyway, Larry is from Nebraska and like many Nebraska Cornhuskers fans, he's also a Packers fan (as is, we imagine, his wife, who's from Wisconsin). His best moment in that capacity probably came in an interview with Fox News prior to last year's Super Bowl. When asked for his prediction, he replied, "I really don't care who wins because I'm a Packer fan." Enough said.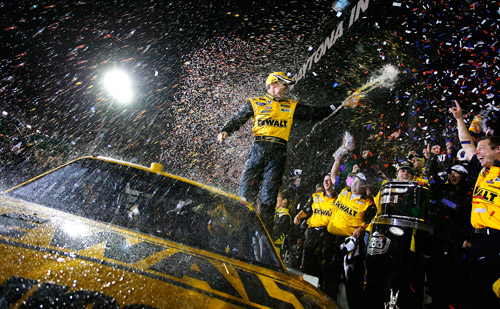 12. Matt Kenseth — First of all, Kenseth is from Cambridge, so Packers fandom is a given, but much like the cable guy above, he loses points for doing redneck shit. Namely, NASCAR. Since I'm sure I don't need to go on a rant about driving in circles and waiting for someone to crash, I'll just move on. Kenseth is a pretty successful driver, having won the 2009 Daytona 500 and the 2003 Sprint Cup. He was also the 2000 Sprint Cup rookie of the year, after earning his chops at places like the Madison International Speedway, Slinger and WIR. Kenseth attends four or five Packers games each season and got to do the Lambeau Leap as part of an ESPN The Magazine photo shoot. Kenseth's cred as a fan cannot be questioned.
11. Lil Wayne — I know. It makes no sense. But then, this is guy who followed up one of the most successful rap albums of the decade (Tha Carter III in 2008) with a rock album. Did I mention he can't play guitar? Anyway, Lil Wayne is from New Orleans, so there's no reason he should like the Packers. Of course, as a creative genius and general nutcase, Lil Wayne does things a little differently than you or I. We do know this: Lil Wayne is a huge sports fan and he proclaimed himself a Packers fan on his ESPN The Magazine blog. In March of this year he went to prison on a weapons charge. He should be out in time to catch the Packers postseason run.
9. Ashlynn Brooke — Ah yes. You knew the requisite porn star entry would be coming at some point. Well, here it is — Ashlynn Brooke. She's a New Sensations contract girl and has won several AVN Awards, but who really cares about any of that. Ashlynn Brooke is smoking hot, often nude and she loves football. As the Oklahoma native says on her website, "I am a huge football fan, especially when it comes to my hometown Sooners and my Green Bay Packers." I mean, really, Ashlynn Brooke is pretty much my dream girl.
8. Denis Leary — Leary is probably best known for the FX show Rescue Me, which is now in its sixth season, but he's also a successful comedian, a somewhat successful movie star (although his choice of material has often been suspect), and a published author. In sports circles, Leary is equally well known as a huge fan, particularly of his hometown Boston Bruins and Red Sox. What isn't as well known is he's a Packers fan, which he became to piss off his brother. "When I was growing up, my older brother and I had to share this room in the attic in the first building we lived in and then the basement. It was basically the Vietnam war re-enacted every day. He was a Pats fan and to piss him off, I picked the Packers because they were the good team in the 60s."
7. David Ortiz — We're going to slide another Boston guy in here (thanks to Mark for pointing this out), primarily because he's a big name. As the Boston Red Sox DH, Ortiz is a six-time All Star, four-time Silver Slugger award winner and two-time World Series champion. In short, Ortiz is one of the biggest stars in baseball because he can hit, as evidenced by his AL-leading home run tally in 2005, AL-leading RBI tallies in 2005 and 2006 and his 2010 Home Run Derby win. But Ortiz is from the Dominican Republic, you say? True, but his wife Tiffany is from Kaukauna, and the Packers bug seems to have rubbed off on Big Papi. Thus, Ortiz can occasionally be spotted on the sidelines at Lambeau.
5. Erin Andrews — She is ESPN's sideline princess no more! After appearing on Dancing With the Stars, Andrews parlayed her celebrity (and her ESPN contract negotiations) into a promotion from sideline reporter to College GameDay co-host and feature reporter. She'll also appear on Good Morning America as a feature reporter. Oh, and did I mention that Erin Andrews is really hot, and that's probably the only reason she ranks this high? Andrews grew up Tampa, Fla. as a Boston Celtics and Red Sox fan, as well as a Packers fan. "That was how we used to bond on the couch; we used to root for the Boston Celtics and the Red Sox. Green Bay Packers — because he grew up a Bart Starr fan. So I grew up a Brett Favre fan. That was my connection with my father." We thank him for his good taste and his good genes. On another note, we now wonder if Andrews' relationship with Aaron Rodgers, whatever that may be, has anything to do with those daddy issues.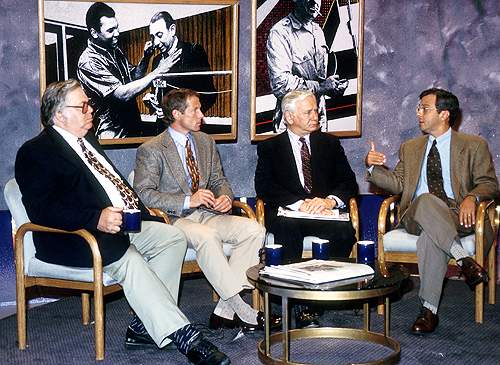 4. Dick Schaap — Dick Schaap was a lot of things: writer, broadcaster and author. For anyone who writes about sports, he was an icon. Although he started in sports at Newsweek and later ran SPORT, Schaap was more than just a sports guy. He also worked on NBC Nightly News, the Today Show, ABC World News Tonight and 20/20, before concluding his career at ESPN, where his son Jeremy now works. Schaap won five Emmys and in 2002, posthumously received the Red Smith Award, America's most prestigious sports writing honor. Schaap is perhaps best known to Packers fans for co-authoring the book Instant Replay with Jerry Kramer. Schaap admired the Packers and their fans, whom he was one of, because of the relationship between the club and the community. In his 1997 book, Green Bay Replay: The Packers Return to Glory, Schaap wrote: "I do not come to this book with clean journalistic hands." Schaap died in 2001.
2. Tony Shalhoub — OK, the dude from Monk may not be the biggest name on this list, but he had a very successful eight-year run as Adrian Monk. He also had memorable roles in the Men In Black movies, Galaxy Quest and as Antonio Scarpacci for seven seasons on Wings. Shalhoub gets extra points because he's one of us — born and raised in Green Bay. He's also something no one else on this list is — a Green Bay Packers season ticket holder. Shalhoub's passion for the Packers was ingrained at an early age. "The adults were so into it," Shalhoub recalled of growing up in Green Bay. "We kids knew this must be important … We got so involved that we would cry if the Packers lost. If they were losing at halftime, we would go up to our rooms and say rosary."
1. Chris Farley — What can I say about Madison's prodigal son, other than he was probably the funniest SOB I've ever seen? That, and he died way too soon. Farley came to prominence on Saturday Night Live, where he brought us characters like Matt Foley (a van down by the river!) and Todd O'Connor, a member of Bill Swerski's Superfans, a group of stereotypical, beer-swilling, sausage-eating Chicago Bears fans. There were the movies that made him a bankable star — namely Tommy Boy and Black Sheep. And then there was the drug overdose in December, 1997. Through it all, Farley not only made us laugh, but he was an unabashed supporter of the Wisconsin Badgers, Green Bay Packers and everything Wisconsin. Mostly, he made us proud to be from Wisconsin.
———-
An honorable mention goes to Madison native Michael Cole, best known for his role as Pete Cochran on The Mod Squad.
Some celebrities with a connection to the Packers, who we believe are not Packers fans:
Demi Moore — Ashton Kutcher's wife has been to a Packers game and was reportedly cheering for the home team, but Kutcher is a well-documented Chicago Bears fan and Moore seemingly has no other connection to the Packers. In fact, in most instances we encountered, we'd describe Moore's feeling towards football as indifferent.
Tim McGraw and Faith Hill — The country singers (and husband and wife) have been connected to the Packers because of their friendship with Brett Favre. They may have even attended games as Favre's guests. However, both McGraw and Hill have stated that they're Tennessee Titans fans.
Jessica Biel — Biel attended a Packers game with boyfriend Justin Timberlake. She didn't wear the home colors and she hasn't had any discernable connection with the team since.
If there are celebrities we've missed who you feel should be on the list, please let us know.