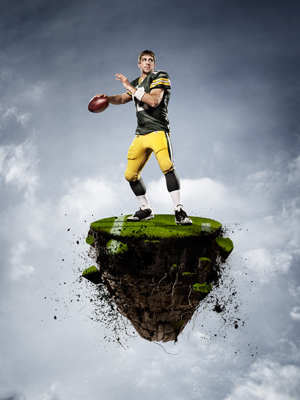 Green Bay Packers quarterback Aaron Rodgers has been anointed a fantasy stud by ESPN, which put Rodgers on the cover of their July 26 edition of ESPN The Magazine.
Perhaps more interesting is the cover story itself, which paints Rodgers as a cool, charismatic character, but one who has overcome quite a bit of disappointment. Rodgers wasn't recruited out of high school, attended junior college (where he again found few suitors at major college programs), slipped in the draft and then had to sit behind Brett Favre, who wanted no part of mentoring him.
"I see so many silver-spoon guys, and I don't think the mental toughness is always there," Rodgers said. "I've dealt with adversity. I've dealt with disappointment. I've dealt with not being picked and not being one of the guys. When I see adversity now, I look forward to it. When I see opportunity, I make the most of it."
There's plenty more I could talk about, but you should read the story for yourself, because it's one that will make you like Aaron Rodgers even more.
[ad#totalpackers468x60]