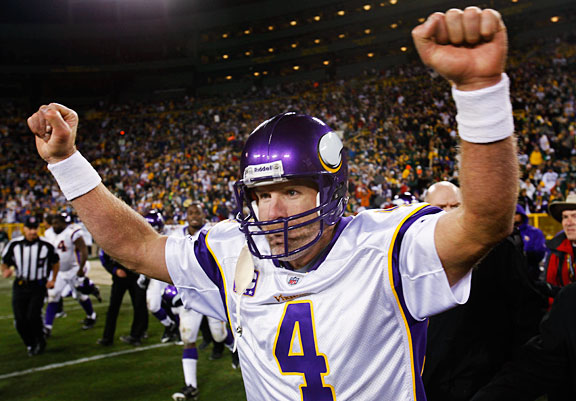 Brett Favre won't have ankle surgery!
That's the word from Charley Walters of the Pioneer Press, who decided to give the news, or rumor, the following one line in yesterday's column.
Hot rumor is that QB Brett Favre will decline to have left ankle surgery as recommended by an orthopedist. What that means for his future with the Vikings is unclear.
Well, far out then.
Favre, of course, was said to need ankle surgery to play the 2010 season. So then, if this is true, then Favre is apparently not playing in 2010.
We believe this much of it.
Zero.
Frankly, we think Favre is much more deliberate than the ho hum, aww shucks, good ole country hick everyone makes him out to be. We think there's no way Favre is going to training camp. We think this is all just an act to accomplish that goal and not look completely selfish doing it. We think Favre will quarterback the Minnesota Vikings in 2010, but only if he has his way.
All of this back-and-forth, will-he-or-won't-he bullshit is designed to do two things.
1. Keep Favre in the people's good graces and the spotlight he so craves, while…
2. Making sure Favre gets to do whatever Favre wants to do.
[ad#totalpackers468x60]