We showed you the Green Bay Packers' new throwback uniforms, a modified version of the team's 1929 uniforms, which they'll wear for one or two games TBD during the 2010 season.
The Packers aren't alone in joining the throwback craze in 2010, though. The Chicago Bears and Philadelphia Eagles will also join the trend.
The Eagles will wear a 1960s-style uniform for their home opener against the Packers.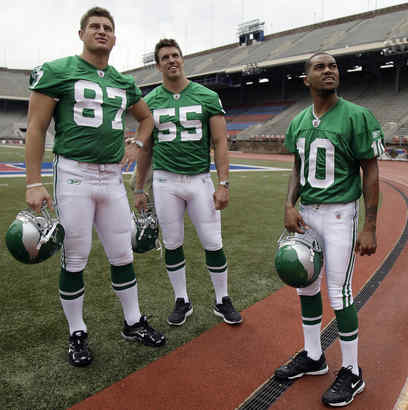 The Bears will wear their 1940s-era throwbacks for two games, which have yet to be announced.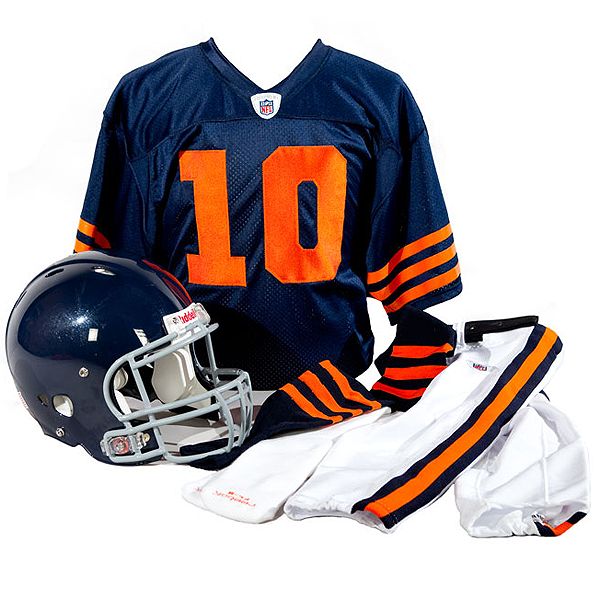 Of course I'm biased towards the Packers, but I tried looking at this from a fashion standpoint.
Here's what I like.
All three uniforms are simple and use the teams' classic color schemes.
The Eagles' uniform brings back the simple winged helmet, replacing the fancy highlighted winged helmet some idiot graphic designer got paid way too much to update in 1996. Yeah, it pisses me off when someone tries to fix something that isn't broken.
The Packers' colors are classic and the uniform numbers look awesome in the circles. With the helmet, the Packers' uniforms are reminiscent of Notre Dame's, only, you know, the team that wears these unis is actually good.
So, you can guess what I don't like.
The Bears' throwbacks are too plain. Retro uniforms are cool when they look as good today as they did when they were first worn. The Bears' uniforms look old. The team should have picked a different era.
I can't help but think Jerry Angelo fucked this one up, just like he fucked that team up.
The Eagles fall somewhat into the doesn't-translate-well-today category too, simply because their unis are a bright shade of green. Sure, the Eagles' throwbacks are still pretty decent, especially when compared to the team's current shit look, but maybe the color could have been toned down a bit. I mean, look, the Jacksonville Jaguars will forever be a joke because some tool decided teal was a good color for a football team. See what I'm saying?
Bright isn't good.
That brings me to the Packers.
As J. Peterman might say… simple and classic like they stepped out of a 1920s serial, but with the confidence to still look good today.
[ad#totalpackers468x60]