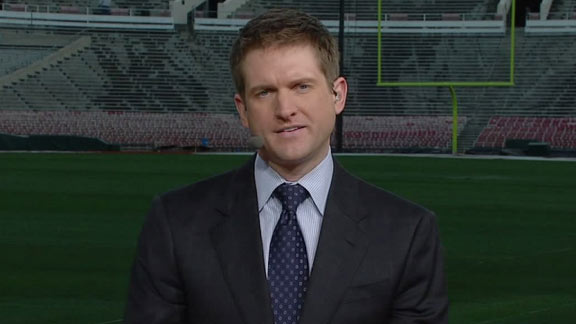 Yes, this happened late last week, but sometimes we're a little slow around here at Total Packers headquarters. For instance, when we're hungover.
Anyway, Green Bay Packers' quarterback Aaron Rodgers took a little swipe at ESPN and specifically, football analyst Todd McShay, via Twitter.
Sometimes I wonder what it would be like to watch film with some of Espn's experts and hear them explain why teams play 2 slide behind…

A storm blitz, and other fun conversations like that. Invitation is out there Todd mcshay

I like Todd mcshay, I think he does a Great job on tv. Just laugh to myself sometimes when some of those guys talk x's and o's
Hey, we couldn't agree more. With the exception of guys who played or coached in the NFL, ESPN's experts are more often than not, full of hot air. And even some of them that did play have been, shall we say, intolerable to listen to.
I'm looking at you Joe Theisman.
Why Rodgers has a particular disdain for McShay is unknown, but it's not a stretch to say people in NFL circles don't think much of the guy. Before the draft, which is one event where ESPN showcases McShay, an NFL scout shared a similar sentiment with Pro Football Talk.
"Most people at my level feel [McShay] is a joke," a veteran NFL scout said. "People in the league respect [Mel] Kiper. He is not a true scout but he does work at it. A lot of his info he gets from connections in the league, and over the years he has made quite a few. When he was younger he used to burn some bridges. He doesn't do that any more."

"McShay does not have any good connections," the source opined. "Higher-ups in the league think he is an arrogant asshole. A know-it-all. And he really knows nothing. Whatever he says about a quarterback, take it to the bank, it will be the opposite. Remember, last August he stated that Jevan Snead was better than Colt McCoy and would get drafted in the top five. He has yet to publicly retract that statement."
So, maybe McShay doesn't know much about football. No one ever accused ESPN of hiring people who are qualified, to my knowledge.
We suspect McShay won't be taking Rodgers up on his offer, something The Shutdown Corner's Doug Farrar would love to see.
Who wouldn't love to see NFL players grilling [insert the name of the "football blowhard" you hate the most] on trap plays and the Cover-2? "Hey there, Zippy – if you don't even know what Cloud coverage is, how is it that you insist I can't read a defense, and you make a living doing it?"
Well put, but I have a better idea.
Maybe ESPN could do their homework and hire people who 1. know what they're talking about, and 2. don't annoy the piss out of people when they open their mouths.
A novel idea, I know, but probably way too far fetched.
[ad#totalpackers468x60]