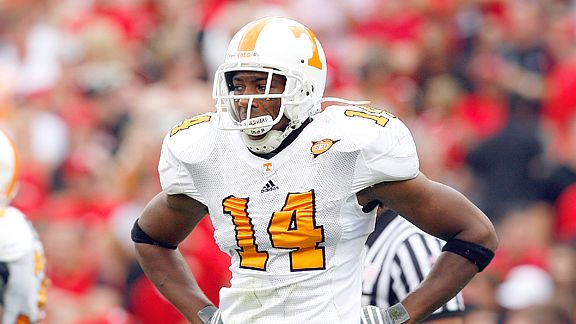 One thing we haven't discussed in relation to this week's NFL Draft is the possibility of the Green Bay Packers trading up.
The reason we haven't discussed it is because Packers' general manager Ted Thompson has only traded up twice in his five years on the job. He did, of course, move up last year to land outside linebacker Clay Matthews at the end of the first round. 2009 was also the only time Thompson finished the draft with fewer choices than he started with.
Trader Ted simply hasn't show a penchant to move up and instead has regularly traded down repeatedly to stockpile picks in the later round, some of which have been helpful and some of which haven't.
Now, ESPN's Adam Schefter, who is pretty reliable on such matters, says the Packers are looking to move up into the 10-12 range.
Before you get too excited about the possibility of Green Bay adding an elite-level prospect, it seems pretty safe to say no move is imminent. Schefter goes on to say…
But it could depend on how board falls. Good prospects everywhere.
In other words, in order for the Packers to even consider a trade up, the player they want would have to be on the board. Secondly, Thompson would have to feel he couldn't get a similar prospect later on.
There are a lot of ifs here, but let's take a look at all the variables.
The first thing that needs to be considered is a potential trading partner. Picks 10-12 are owned by the following teams – 10. Jacksonville, 11. Denver (from Chicago), 12. Miami.
The good news is these appear to be fertile trading grounds. Jacksonville doesn't have a second-round pick, having traded it to New England. Miami is in the same boat, having moved their second-round pick to Denver in the Brandon Marshall deal. The offer of a first and a second-round pick may look quite appealing to the Jaguars or the Dolphins.
Denver, on the other hand, has two second rounders. If Denver wants to stockpile some high draft picks, there could be room to make a deal with the Broncos. Consider, if the Packers dealt the Broncos their first and second for Denver's first, the Broncos would have four picks in the top 56 – an enviable position and something that could greatly improve their team.
In the compensation department, we're assuming this deal could be made for the Packers' second-round pick and a swap of first rounders. Last year, Thompson traded two third rounders and a second to move into the back end of the first to select Matthews. A second and a swap of firsts would likely be considered similar value in this case, although the Packers may need to throw in another late-round pick.
Here are the Packers picks (round, number, overall).
1-23, 23
2-24, 56
3-22, 86
4-24, 122
5-23, 154
5-38, 169 (Compensatory)
6-24, 193
7-23, 230
Finally, if the Packers do trade up, who might they be looking at? The team needs an offensive tackle, outside linebacker, cornerback and safety.
If the Packers move into the 10-12 range, it's a good bet the top offensive tackle – Oklahoma State's Russell Okung – will already be gone. Washington (No. 4) is in need of a tackle, as is Seattle (No. 6). Oklahoma's Trent Williams is the next best tackle behind Okung and is also an elite prospect. Depending on what Seattle does, Williams could be available between 10-12. Beyond him, Iowa's Brian Bulaga appears to be the only other tackle to warrant a top-15 pick.
Outside linebacker is bit trickier. If the Packers move up for an outside linebacker, they will likely be targeting Texas' Sergio Kindle or Michigan's Brandon Graham. Kindle is the top-rated prospect at the position and would be likely to go in 10-12 range whether the Packers are there or not. Graham, on the other hand, seems like he could go anywhere in the first round and I can't see the Packers trading up specifically to get him.
Although it seems less likely, the Packers could land a top-rated defensive back between 10-12. The top-rated cornerback is Florida's Joe Haden and although he's been linked to Cleveland at No. 7, the Browns could also take a long look at Notre Dame quarterback Jimmy Clausen. If they take Clausen or someone else, Haden could drop a few spots into the low teens.
As for safety, Tennessee's Eric Berry is being touted as the best safety prospect in years. Typically, safeties don't go in the top 10, but Berry could be the exception. He's been linked to Kansas City (No. 5) and the Eagles also appear to be interested. Interestingly enough, Schefter says Philadelphia, who currently picks at No. 24, is eying picks 10-12 as well. It's perfectly conceivable then, that the Packers and Eagles both have their eyes on Berry.
So, the question is, should the Packers trade up, and if so, who do you like if they're available – Williams, Bulaga, Kindle, Haden or Berry?
[ad#totalpackers468x60]