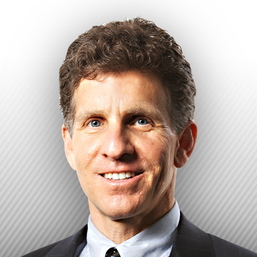 You know, some of us used to be "real" journalists here at Total Packers, so we thought we'd drag those skills out of the closet and do an actual interview for once.
We were lucky enough to track down National Football Post president – and former Green Bay Packers' vice president – Andrew Brandt.
Brandt was best known in Green Bay as the team's salary cap guru. He negotiated player contracts and managed the Packers' salary cap from 1999 to 2008, working with both Ron Wolf and Ted Thompson. In 2008, Brandt launched the National Football Post, which is one of the best football sites on the web.
Unfortunately, Brandt stayed away from some of the potentially controversial subjects we asked about – specifically, those related to Ted Thompson's team building philosophy and Brett Favre's departure from Green Bay – but he did offer some unique insight.
Anyway, that's enough of an intro. On with the show.
What was it like working with Ron Wolf?
It was a great learning experience. Ron didn't say much but when he did, it was usually valuable information. He had a great knack for seeing value in players.
What do you think the key for a successful contract negotiation is?
Negotiations are often viewed as about numbers; they are really about people. The key for any deal to happen is trust — hopefully agents and players knew that my word was true even if it was information they didn't want to hear. Relationships, trust, common interests, etc. Those are how negotiations are successful, with both sides feeling that they didn't get everything they wanted but neither side was greedy.
How often do negotiations turn contentious?
I tried to never let that happen. Never let your adversary become your enemy. We were all in it together.
What was the toughest contract you had to negotiate during your time with the Packers and what made it so tough?
There were many, but the toughest ones are ones where I tried to negotiate without leverage, meaning the general manager made it clear to me that we cannot lose the player to another team. A few of them were Darren Sharper early in his career, Joe Johnson, Kabeer Gbaja-Biamila, and Aaron Kampman. Other tough ones were those I handled with the player personally. Although agents were somewhat involved, I ended up working directly with players like Mark Tauscher and Donald Driver, which was difficult trying to separate the business from our personal friendships.
In the bigger picture, what are your thoughts on the current status of the NFL labor agreement – do you think there's a chance something will happen in the near future?
I think now that we are in an uncapped year, very little will happen in labor negotiations until the end of the year, if that. There are no flashpoint dates on the calendar requiring a labor agreement until next year.
What do you think the chances of a lockout are?
Hard to say, but I'm cautiously optimistic there will not be a lockout.
As someone who's worked both with players and for NFL organizations, what do you think the key points to getting a labor agreement done are?
The key is going to be the percentages of total football revenues, of around $8 billion, that each side receives. Beyond that, there are issues of player conduct, rookie contracts, revenue sharing, etc., but the big one is the money. The players' side needs to ensure that whatever cap or system is in place, it ensures a certain level of hard dollars go to the players. The owners need to ensure the players have some kind of shared risk in the product, as there is a much different landscape in terms of public financing for stadiums and debt than there was in 2006.
How do you think journalism, particularly sports journalism, will continue to evolve?
It will continue to weed out the good from the bad. I realize that although our site may be the first of its kind, it certainly won't be the last. We have to try to be the best at all times.
What advice would you give to someone starting a website today?
Be unique, find differentiated content that is not currently out there, or do what's out there better than it's being done.
What's your favorite restaurant in Green Bay or the surrounding areas?
Had many — Hinterland, a little Mexican place El Azteca, and a health food place named The Urban Frog.
Green Bay has been named one of the least desirable places to play in the NFL by the players. Have you encountered that attitude?
I dealt with that perception a lot and felt like the Green Bay Chamber of Commerce when I talked to players and agents about Green Bay. Usually there was some hesitation, but when the player got to Green Bay they ended up enjoying the place. This was the case with Charles Woodson.
What are your lasting impressions of the community?
I made some lifelong friends and enjoyed my time there. It was time for a change after nine years. I am constantly reminded about the passion and kindness of Packer fans whenever I write about the team. I will always say that they are the best fans anywhere.
[ad#totalpackers468x60]