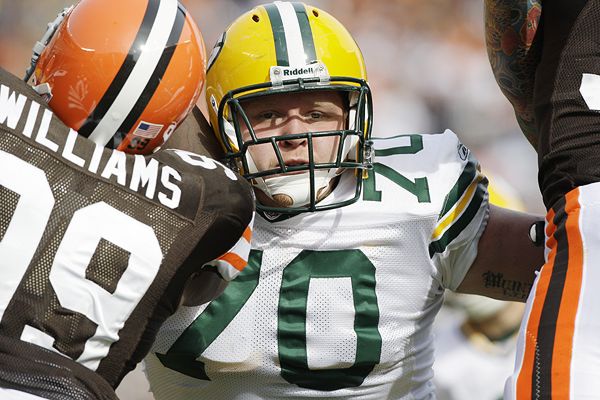 The Green Bay Packers have more than a few questions along the offensive line entering the season.
One of them is where second-year man T.J. Lang will play. While most of us expect him to compete for and eventually take over the right tackle spot, Packers' coach Mike McCarthy doesn't necessarily agree.
"There's a difference in opinion there. I think T.J.'s long-term, this is just me personally, Joe Philbin, James Campen and Jerry Fontenot, we go round and round about it, I think T.J.'s long-term is at guard. I think he's a natural left guard, when I look at his body. But he is young. He needs to develops strength to hit that. He is a very young second-year player. There's a lot of room for development. But you can't argue with the fact that he's a more natural tackle because that's where he has played. He feels more natural at tackle because that's where he has played. I definitely feel he could play right tackle today if he had to. And I think he's done a solid job at subbing in there at LT when needed."
This points to the continuation of a frustrating trend with McCarthy – moving offensive lineman all over the line so they can't get comfortable at one position.
What's even more confusing is McCarthy will supposedly have two players competing for the left guard spot – last year's starter Daryn Colledge and Jason Spitz, who started last season at center, but has also played guard. We fully expect Spitz to win the spot, as College has been one of the Packers' worst offensive linemen the past two years.
Is McCarthy planning on throwing Lang in the mix at left guard too? I don't see how that helps anyone.
Overall, the Packers line is again in flux this offseason, but it's not because general manager Ted Thompson has done anything to address one of the team's biggest weaknesses. It's because McCarthy either doesn't have the right parts or because he can't decide where to put the parts he has.
Surely, the Packers will choose an offensive lineman somewhere in the draft – hopefully in the first round – but right now there are really only two solid starters. Those guys are center Scott Wells and right guard Josh Sitton.
Having Colledge and Spitz battle it out should improve the left guard spot, but then you're looking at two past-their-prime injury risks at the line's most important position, tackle. Chad Clifton and Mark Tauscher are slated to start, but Lang should overtake Tauscher at some point if given the chance.
The question is whether he'll be given a fair shot or shuffled around like he was last season?
Clifton's replacement, whether eventual or immediate, should come in the draft. This is one of the deepest drafts for offensive tackles in some time and the Packers should be able to nab a starter with pick No. 23.
"What's going to happen in the draft?" McCarthy said. "That might affect the rotation, too. But I clearly think we can have almost two guys per position competing for starting spots. That's a good position to be in."
A good position to be in is to have five solid starters on your offensive line and to know who they are before training camp begins, Mike. A good position to be in is knowing your franchise quarterback isn't worried about getting killed every time he drops back – a luxury Aaron Rodgers has never been afforded under McCarthy.
The problem with McCarthy's good position is, most of the guys competing aren't that good. Clifton missed a lot of time last season and it would be a miracle if he made it through this season intact. Even when he is healthy, Clifton isn't that good anymore.
McCarthy is delusional if he thinks Allen Barbre can play right tackle. The Packers have tried to hand Barbre a starting spot each of the past two seasons and he's played so poorly on both occasions he's been sent back to the bench. That leaves Breno Giacomini, who couldn't beat out Barbre for the starting right tackle spot last season, and Evan Dietrich-Smith, who made the Packers as an undrafted free agent last season.
Smith clearly has some upside, but whether he'll compete for a starting spot in the near future is questionable.
Having mediocre players compete for starting spots isn't a good position to be in, just ask the Detroit Lions.
The Packers need some real talent on the offensive line, not developmental players. But right now, it looks like the Packers are content to continue their frustrating love affair with the underachieving offensive linemen they already have on the roster, which is likely to spell trouble for Aaron Rodgers.
[ad#totalpackers468x60]