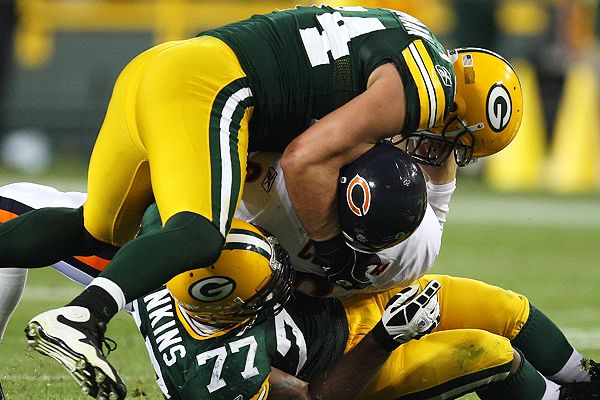 Although it will be quieter today than it was yesterday, we'll again keep running updates throughout the day with the latest news at the top of the page. Check out the day one free agent rundown here.
———-
OK, the Aaron Kampman saga continues to get weirder. The Eagles have refuted the report below that they wanted Kampman to visit and his agent canceled the visit. What this probably means is that Kampman's agent, Neil Cornrich, is floating some inaccurate information in order to drum up interest in his client. It also means we won't be posting anymore Kampman information unless it's about 1. Kampman signing a contract or 2. a confirmed Kampman visit.
———-
More on Aaron Kampman and the Philadelphia Eagles: Kampman was set to visit the Eagles on Friday, but his agent, Neil Cornrich, reportedly blocked the visit. Word is the Eagles weren't ready to commit to a financial offer for Kampman, who is rehabilitating a torn ACL. Cornrich apparently wants to make sure teams are serious about signing Kampman before sending him on visits. It's a sign the Jaguars could offer a contract this weekend. The Packers don't appear to be making much of an effort to resign Kampman, even though they say they want him back. My feeling is that means they'll let Kampman sign elsewhere, unless they can get him at a bargain price.
———-
The New York Giants overpaid for a player the caliber of Antrel Rolle, although that's what the market dictated. Rolle got a five-year, $37 million deal from New York with $15 million guaranteed – that's an average of $7.4 million per season. Rolle's former team, the Arizona Cardinals, reportedly offered a six-year, $38.6 million contract – an average of $6.4 million.
Why is this significant? The Packers will eventually have to work on a contract for safety Nick Collins, who's a better player than Rolle. Rolle is currently the highest-paid safety in the NFL, although he's nowhere near the best safety in the NFL. The Packers may have to pay Collins more and if they're unwilling to do so, it's likely Collins will hold out. The worst case scenario, which I could now see playing out, is Collins plays on his one year tender, which is just over $3 million, and then leaves the Packers after the 2010 season.
Rolle's deal makes Ted Thompson look like a fool for not renegotiating Collins' contract during the 2009 season.
———-
Aaron Kampman apparently didn't visit the Philadelphia Eagles yesterday, after all. Word is he was on his way to Philly, but changed his mind and instead decided to visit Jacksonville first. Kampman's visit with the Jaguars has been confirmed and Kampman's agent is keeping in touch with the Eagles. Kampman is said to be one of Jacksonville's primary free agent targets.
———-
The Journal Sentinel had a story yesterday suggesting Chad Clifton never wanted to leave Green Bay, which makes sense. What's more interesting is the theory that Clifton's agent, Jimmy Sexton, was just using the Washington Redskins as leverage to get a deal done with the Packers. That also makes sense, but Tom Silverstein goes so far as to suggest that Redskins owner Dan Snyder possibly just had Clifton visit because he owed Sexton a favor. The Redskins don't have a left tackle, now that Chris Samuels has retired, but think what you will, I guess.
———-
Word is, Green Bay Packers outside linebacker Aaron Kampman is visiting the Jacksonville Jaguars after visiting the Philadelphia Eagles on Friday. We'd be surprised if Kampman didn't have a deal in place by the end of the weekend.
———-
The Detroit Lions continued to make moves, resigning offensive lineman Jon Jansen, who is entering his 12th year in the league. It's not quite as high profile as yesterday's signings of Nate Burleson and Kyle Vanden Bosch, but the Lions need as many players as they can get.
[ad#totalpackers468x60]