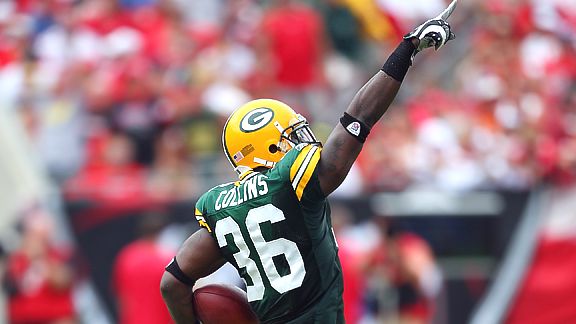 All is quiet on the Nick Collins front and that isn't good.
The Green Bay Packers starting strong safety avoided offseason team activities last year because he was angry the Packers wouldn't renegotiate his contract. Now, Collins is about to become a restricted free agent and there seems to be no movement on a new deal for the two-time Pro Bowler.
The Journal Sentinel's Greg Bedard had this to say on Twitter: "Dead silent. I expect him to holdout for real this year."
Some yahoo over at Yahoo! then turned Bedard's tweet into this story, which went on to state Collins will hold out if the Packers don't sign him to a long-term deal and instead expect him to play under a one-year free agent tender.
The real question is this – what the fuck are the Packers doing?
Collins has 13 interceptions the past two years, and although his tackles dropped from 72 in 2008 to 53 in 2009, it's no stretch to call Collins the backbone of the Packers defense. The guy deserves to get paid.
Although he looked like a whiny bitch last offseason by not showing up for OTAs, especially considering he made north of $3 million in 2009, Collins has every right to be pissed if the Packers don't do something to lock him up long term this offseason.
Especially curious is the way the Packers have gone about their business. After signing receiver Greg Jennings to a big-money extension during training camp, it was widely assumed Collins was next in line for a deal, but that wasn't the case.
The Packers signed linebacker Brandon Chillar to an extension during the season. So far this offseason, the team has signed safety/special teamer Derrick Martin to an extension and seems to only be seriously negotiating with nose tackle Ryan Pickett, who they plan to franchise.
So when does Collins get his?
If the Packers don't so something soon, they're going to have one disgruntled player and a training camp distraction on their hands.
[ad#totalpackers468x60]