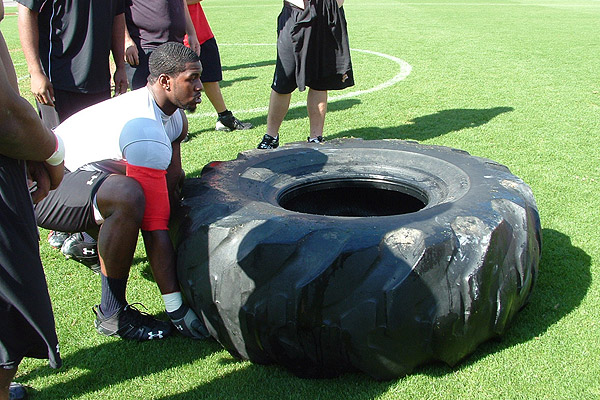 There are all kinds of totally awesome stories coming out of the NFL scouting combine, so let's get right to it.
Maryland offensive tackle Bruce Campbell, who we suggested might be available when the Green Bay Packers pick at No. 23, is tearing it up. Campbell ran a 4.85 40-yard dash, which is pretty damn fast for a guy who weighs 310 pounds. Since straight-line sprinting ability is absolutely imperative for left tackles, Campbell will probably be shooting up draft boards everywhere and be out of the Packers reach.
LSU's Trindon Holliday, who the Packers talked to at the beginning of the combine, didn't achieve his goal of beating Chris Johnson's 40-yard dash record, but did run a speedy 4.34.
Another guy the Packers talked to is Notre Dame receiver Golden Tate. Tate turned out to be a little smaller than everyone thought, measuring 5-10, rather than his collegiate-listed height of 5-11, and we all know how important that extra inch is for running routes and catching passes.
The Packers also spoke to Ole Miss receiver Dexter McCluster, who at 5-9 looks to be more of hybrid-type player in the NFL.
"Yeah, I talked to the Packers, and they talked to me about playing running back, but they still (showed interest in him on) on special teams," said McCluster, who will work out at both running back and receiver on Sunday.

"A lot of teams bring that up and see what my mind is about that. But I tell them the same thing — 'punt return, kick return, gunner, whatever, I'll do it.' It's going to help me out in the long run, being able to do so many things and knowing that, if they do just stick me at punt returner or gunner, that they're going to get everything out of me."
In some business-related news, the Packers confirmed they will not tender running back DeShawn Wynn, meaning he'll be an unrestricted free agent. Tramon Williams and Nick Collins will reportedly receive elevated tenders.
Interestingly, the Packers are expected to have to pay a decent amount of money to keep tackles Chad Clifton and Mark Tauscher. At 34, Clifton is reportedly the best left tackle on the free agent market, which tells you just how shitty the free agent market is for offensive linemen this year.
One agent – and let me reiterate this came from an agent – estimated Clifton could get a two-year deal averaging $7.5 million and Tauscher, who is 33, could get a two-year deal averaging $5 million.
Those numbers are laughable if you ask me, but maybe Clifton ran a 4.5 40-yard dash earlier this week that I'm unaware of.
Elsewhere on the free agent front, it looks like the Packers are finally working on a deal with safety Nick Collins, who will be a restricted free agent.
"I think it's Nick's time," Alan Herman, Collins' agent, said. "What more can he possibly do to prove himself? I think once we get past this combine situation and go in and talk to them, I'm optimistic that this is going to be resolved."
Finally, there was some news about defensive tackle Justin Harrell. Remember him? Of course you don't because the guy hasn't played in two seasons since Ted Thompson reached for him in the first round of the NFL draft.
Well, Harrell is apparently 100% recovered from the back problems that have plagued him the last two years. Although I think I've heard this record before, let's let Packers coach Mike McCarthy play it.
"Best he's looked in Green Bay, physically," said McCarthy.
Notice McCarthy didn't say anything like "Harrell will actually make it onto the field this season."
Anyway, that's all for now.
Check out our first combine roundup here.
[ad#totalpackers468x60]