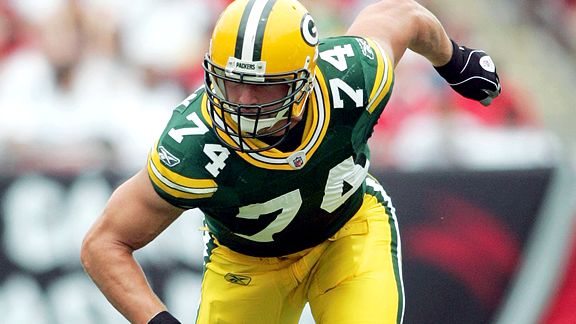 The Chicago Bears needs a defensive end, that's been established.
Adewale Ogunleye is an unrestricted free agent and isn't expected to be re-signed. Further, Gaines Adams, who the Bears traded a second-round draft choice for during the 2009 season, died in the offseason. Even with both of those guys, the Bears defensive line managed only 24 sacks in 2009, lead by Ogunleye's 6.5.
Now, NFL.com's Jason La Canfora is reporting the Bears are gearing up for a "major run" at Carolina Panthers' defensive end Julius Peppers and that Green Bay Packers outside linebacker Aaron Kampman is someone the Bears are also "high on." Both will be unrestricted free agents when the league year opens on March 5.
Kampman landing with the Bears, where he could go back to his natural defensive end position, is a very real possibility that we've previously discussed. Since he's coming off reconstructive knee surgery, Kampman will also be a much cheaper option than Peppers and we all know the Bears are nothing if not cheap.
Still, Peppers will reportedly be the Bears' first target even though he's expected to command a deal similar to the one Albert Haynesworth signed with the Washington Redskins last offseason (seven years, $100 million, with $41 million guaranteed).
Peppers was seeking around $40 million guaranteed from the Panthers.
At times Peppers is dominant and he's had good numbers, with 10 or more sacks in six of his eight NFL seasons, but at times he disappears. Peppers is the classic player with tons of natural talent who doesn't care about the game. Just take a look at 2001, when Peppers managed only 2.5 sacks in 14 games.
Kampman, on the other hand, is a guy who plays hard all the time and even though he didn't have much success transitioning from defensive end to outside linebacker, is still likely to be a solid player in the right system.
Some, like the Press Gazette's Mike Vandermause, suggest the Packers should make a strong push to keep Kampman and general manager Ted Thompson has stated he will make the free agent a contract offer.
Vandermause writes:
… one important point that tends to get overlooked is Kampman was improving in his new role before suffering a season-ending anterior cruciate knee ligament injury in November.

Kampman wasn't an instant impact player in the 4-3 defense either but given time, he developed into a Pro Bowl-caliber defensive end. Based on his track record, dedication, work ethic and will to succeed, there is no doubt he could flourish in the 3-4.
Vandermause, of course, doesn't consider the obvious because the obvious would contradict the point of his Kampman love fest.
In seven starts, rookie Brad Jones had more sacks than Kampman did in nine – four to 3.5. To suggest Kampman was growing into his role at outside linebacker may be true, but it's pretty clear Jones was growing into the same role faster. Jones is younger, faster, better in coverage and isn't coming off major knee surgery. So, to suggest Kampman is a better option than Jones at this point is either bias or just plain stupidity.
Just look at the stats. After a career-high 15.5 sacks in 2006, Kampman's sack numbers have decreased each year. In 2007, Kampman had 12 sacks, followed by 9.5 in 2008 and last season's 3.5. His tackles have also decreased since a career-high 89 in 2006. In 2007 Kampman registered 64, followed by 62 in 2008 and 42 in 2009.
Obviously, Kampman's 2009 campaign was cut short by an injury, but the numbers aren't trending in the right direction. No matter how much Kampman improves in the 3-4 and no matter how strongly he returns from his knee injury, Kampman simply isn't likely to recapture his 2006 form.
To suggest Kampman has more of an upside than Jones at this point is simply ignorant.
Sure, Kampman will play hard, but that's no reason for the Packers to throw big money at him. If the Bears, on the other hand, want to throw big money at Kampman or Peppers, who is likely to show up even less when he gets his new contract, let them.
[ad#totalpackers468x60]