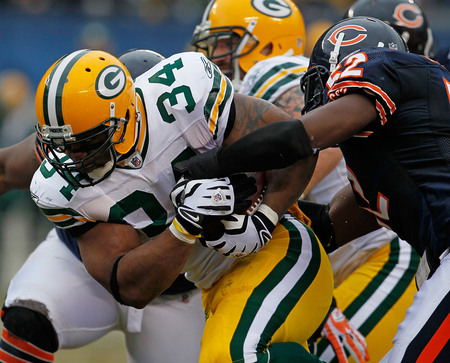 Ahman Green broke the Green Bay Packers' career rushing mark in his half-season stint with the team in 2009, and served as a decent short yardage back and special teams player.
Green, who at 32 is ancient for an NFL running back, will be an unrestricted free agent when the league year opens on March 5 and says he expects to be back with the Packers.
"It sounds like I'll be back next season. I'm just getting myself in shape and getting ready for 2010," Green said.
Unfortunately, Green may be the only one who thinks he'll be back in a Packers uniform next season. Packers general manager Ted Thompson has been non-committal on Green and as PFT's Gregg Rosenthal notes, the Journal Sentinel and Press Gazette have termed Green's chances of returning to the Packers as nearly non-existent and "iffy at best."
Green provides a valuable veteran presence, but that's probably a luxury the Packers can't afford at running back. Ryan Grant is currently entrenched as the starter and the injury-prone Brandon Jackson is the third down back. There isn't much to speak of behind that, so there's a good bet the Packers will look at running back at some point during this year's draft.
That doesn't leave much room for Green.
[ad#totalpackers468x60]