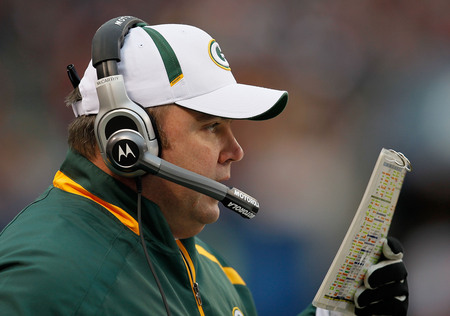 Green Bay Packers coach Mike McCarthy got no love in the NFL Coach of the Year race, despite some speculation that he might. As we predicted, the Cincinnati Bengals' Marvin Lewis ran away with the award.
McCarthy finished… well, he didn't get any votes, so he didn't really finish anywhere.
Oddly enough… or perhaps not odd at all, since we're pretty awesome and know our shit, we correctly picked the top three coaches in the race – Lewis, the New Orleans Saints' Sean Payton, and the San Diego Chargers' Norv Turner.
They received 20.5, 11.5 and nine votes, respectively. The Indianapolis Colts' Jim Caldwell, who we picked to finish fifth, finished fourth with seven votes. For some reason, the Philadelphia Eagles' Andy Reid and the Arizona Cardinals' Ken Whisenhunt each received one vote. Maybe those voters were homers, or maybe they thought they were voting for Coach of the Most Underachieving Team That Still Managed to Make the Playoffs.
Anyway, I wanted to say two things.
First, we didn't have Caldwell higher in our rankings because we have no respect for a guy who threw meaningful games at the end of the season.
Second, did McCarthy deserve to win the award or even get any votes? Probably not.
The Packers were good this season and improved by five games over last season, but they couldn't handle the Minnesota Vikings in arguably the most significant games in McCarthy's tenure outside of the 2007 NFC Championship game (and hey, he didn't win that one either).
Besides that, the coach of the year doesn't give the last winless team in the NFL it's first win of the season, as McCarthy and the Packers did in Tampa this season.
Not to hate on what the Packers did this season, but here's a theory on McCarthy that we're likely to discuss down the road.
He's a good enough coach to win enough games to 1. get the Packers in the playoffs from time to time and, 2. not to get fired, but he'll never be good enough to win it all.
[ad#totalpackers468x60]