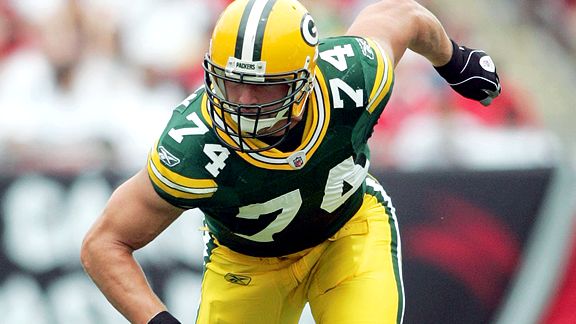 When the Green Bay Packers cleaned out their lockers this week, several members of the team may have done so for the last time. Long-time starters Chad Clifton, Mark Tauscher, Ryan Pickett and Aaron Kampman are all unrestricted free agents.
The Packers will likely make moves to replace Clifton and Tauscher, and would be wise to resign Pickett, but Kampman remains a major question mark after tearing his ACL on Nov. 22 and failing to impress in his switch from 4-3 defensive end to 3-4 outside linebacker.
On the former front, Kampman is doing well. By all accounts he will be ready for training camp.
"Things have gone very, very well," Kampman said. "Let's just say I've been very encouraged by the health of my knee."
The real question is where that training camp will be, as neither the Packers or Kampman have been quick to commit on a return to Green Bay.
"I've gotten used to this 3-4," Kampman said. "I didn't get a chance to get a full year to critique it and say, 'Hey this is great.' But I was starting to get more comfortable in it. Having said that, I have a lot of experience in the 4-3, so I think I can do both."
In all likelihood, Kampman will look for a team that plays the 4-3. Not only were Kampman's numbers down this season, but Packers defensive coordinator Dom Caper was forced to used him as a down lineman. Kampman couldn't seem to effectively rush the quarterback from the typical two-point stance of a 3-4 outside linebacker and was a major liability in coverage, something he was rarely asked to do in the 4-3.
The Packers are unlikely to pay Kampman the $8 million per season he'll be seeking for the kind of production they saw from him in the 3-4, and Kampman isn't likely to continue in a system he doesn't feel 100 percent comfortable in.
The real question is, will the Packers try to get any compensation for Kampman?
If the team were to apply the franchise or transition tag to Kampman, they could trade him, since any team who signed him in either of those scenarios would have to give up draft picks to do so. However, no one really knows what Kampman's trade value is because of his injury. If the Packers couldn't trade him they would be stuck making him one of the highest paid outside linebackers in the NFL.
There are risks involved in either scenario, but even if Kampman simply walks away and the Packers receive no compensation, it's not the end of the world.
Rookie Brad Jones has emerged as a solid potential replacement in Kampman's absence. Jones knows the 3-4 and has shown flashes as a solid pass rusher.
Jones started only two fewer games than Kampman (seven and nine) this season and posted similar numbers.
Jones: 33 tackles, 4 sacks
Kampman: 42 tackles, 3.5 sacks, 1 forced fumble
The ideal scenario for the Packers and Kampman is to work out a trade sending Kampman to a 4-3 team, where he could go back to defensive end. Whether that's possible will be one of the main questions the Packers have to answer this offseason.
[ad#totalpackers468x60]