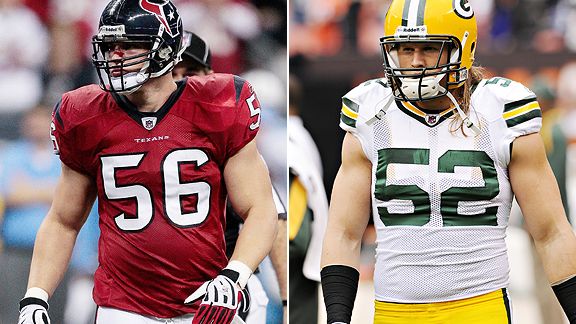 Both Fox Sports and ESPN have reported that Houston Texans linebacker Brian Cushing has been named NFL Defensive Rookie of the Year.
Cushing was a runaway winner, receiving 39 of a possible 50 votes. Buffalo Bills safety Jairus Byrd finished second with six votes, followed by Green Bay Packers linebacker Clay Matthews with three, and Washington Redskins linebacker Brian Orakpo with two.
Around these parts, I'm sure many of you would like to be incredulous that Matthews didn't win the award, but the reality is, Cushing, who was Matthews teammate at USC last year, had a better season. Although I thought the vote would be a lot closer than it was, Cushing deserves the award.
Take a look at the stats.
Cushing: 134 tackles, 5 sacks, 4 interceptions, 2 forced fumbles
Matthews: 51 tackles, 10 sacks, 0 interceptions, 1 forced fumble
Byrd: 45 tackles, 0 sacks, 9 interceptions, 0 forced fumbles
Orakpo: 50 tackles, 11 sacks, 0 interceptions, 1 forced fumble
Matthews had a great season for the Packers and looks to have a great career ahead of him in Green Bay, but you can't argue with what Cushing did for the Texans.
[ad#totalpackers468x60]