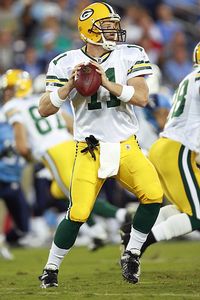 Word out of Buffalo is that Green Bay Packers' castoff and former second-round pick Brian Brohm will start at quarterback for the Bills this week.
It's not exactly a let's-see-what-this-kid-can-do move, but more of a we-don't-have-any-other-healthy-quarterbacks move. The Bills opening day starter, Trent Edwards, has been lost for the season with an ankle injury and sometime starter, Ryan Fitzpatrick, is on crutches.
So, Brohm will get the first regular season NFL action of his career on Sunday against the Atlanta Falcons, which despite fan opinion, is probably not a good thing.
The Buffalo News tells it like this.
A lot of fans and media have been calling for Brohm to play since he was signed off the Green Bay Packers' practice squad on Nov. 19. In an online poll at buffalonews.com, Brohm received 86 percent of the first 100 votes in a poll asking fans who they wanted to see start Sunday, if all quarterbacks were healthy.

Fewell said recently that Brohm didn't know the offense well enough to run if effectively. Fewell said the primary focus in the season's final two games will not shift to getting extra playing time for the team's inexperienced veterans, including second-year receivers James Hardy and Steve Johnson.

But with the Bills officially eliminated from the playoffs, a lot of people believe the time has come to see what Brohm can do now so he is not as big of a mystery going into next season.

Brohm has yet to take any snaps with the offense during practice, instead running the scout team.
Although he was a stud at Louisville, Brohm seemed to suffer from a major confidence problem in Green Bay. He started poorly during his rookie season and never recovered. Brohm is a guy who has the physical tools, but they haven't translated to the field in the NFL. At this point, Brohm wears the label as one of Ted Thompson's biggest draft busts and that's no small feat considering the contributions, or lack thereof, of Justin Harrell and Pat Lee.
It's understandable if Bills' fans want to give Brohm a whirl, particularly since both of their other quarterbacks aren't terribly good even when healthy, but something tells me Buffalo is going to be in a world of trouble this weekend.
Even is Brohm's psyche is somehow repaired, it doesn't sound like he has a very good grasp of the offense and four days of practice aren't going to give him one. Hopefully, getting beaten around by the Falcons doesn't make things worse.
I know I, for one, will be pulling for Brian Brohm this weekend.
[ad#totalpackers468x60]