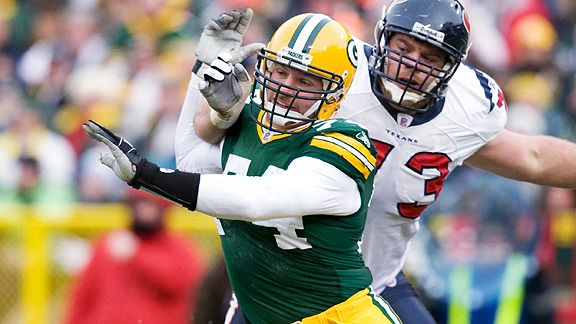 The Green Bay Packers played their best defensive game of the season on Sunday without Aaron Kampman. I know it will probably be considered heresy to even suggest, but you have to wonder if the Packers defense isn't better without Kampman.
Consider these known truths.
Kampman, who sat out Sunday's game with a concussion, has struggled in his conversion from defensive end to outside linebacker. Kampman has 2.5 sacks this season. He had six sacks through eight games last season and finished with 9.5.
Packers defensive coordinator Dom Capers has had to adjust the defense to put Kampman, who favors a three- or four-point stance, in a position to make plays. Kampman has not fared well rushing the passer from a standing, outside position, which is the primary role of an outside linebacker in the 3-4.
Kampman is at best uncomfortable in pass coverage and at worst, a liability. But because the Packers consider him an every-down player, and because he's earned that status in previous years, Kampman often has to cover opposing tight ends and running backs. The results are sometimes disastrous.
Kampman is better suited for the 4-3 system, where he can stick his hand in the dirt as a defensive end and doesn't have to cover anyone. His replacement against the Dallas Cowboys on Sunday, Brad Jones, is a prototypical 3-4 outside linebacker.
One good game does not a player make, but Jones recorded seven solo tackles on Sunday. Kampman's high for the season is five, in week two against Cincinnati.
Don't get me wrong. Aaron Kampman is good football player. He's gives his all on every play and he's had some great years in Green Bay. However, it's pretty clear he is not comfortable in the 3-4 and that the system isn't suited for his talents. It's like having a round peg made of gold, a square peg made of wood and trying to stuff the round peg in the square hole simply because it's made of gold.
As Steffen noted on Saturday, the Packers may be getting a glimpse of their future at linebacker with Jones' first start on Sunday.
The Packers are unlikely to bench Kampman, even though he doesn't fit the system. First, he's Aaron Kampman, he plays hard and has obvious talents. Second, the Packers, under coach Mike McCarthy, rarely bench anyone who has performed well in the past or was a high draft pick, despite what their current performance is (see: Hawk, A.J.).
Still, like Brandon Chillar did with Hawk, it would be mildly surprising if Jones didn't start taking a few snaps away from Kampman when he returns from his injury.
The situation has the potential to get muddled like a cherry and an orange slice at the bottom of and Old Fashion. It will only clear up when the season ends.
A lot of people have insinuated, but let's come right out and say it. Aaron Kampman won't be with the Green Bay Packers in 2010.
Kampman is a free agent after the season and the Packers realistically have two options. They can decide they don't want to pay big money to a guy who doesn't fit their system and let him walk, going with the much cheaper option in Jones, or they can put the franchise tag on Kampman and trade him to the highest bidder.
I'm sure Kampman has some loyalty to the Packers organization, but he's not going to want to play another season in a defense not tailored to his skills. On the flip side of the coin, there will be a substantial market for a pass rusher of Kampman's caliber. Expect the Packers to dust off that franchise tag and trade Kampman to a 4-3 team.
[ad#totalpackers468x60]