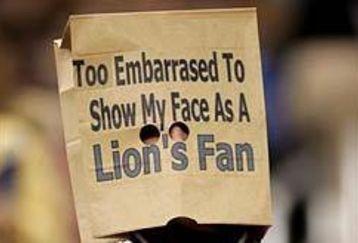 Monty: The Detroit Lions once again demonstrated how bad their defense is in their victory over the Cleveland Browns last week. The Lions allowed Brady Quinn to throw for 304 yards and four touchdowns in that game. Quinn previously had thrown three touchdowns – in his career.
In other words, the Green Bay Packers will have no problem moving up and down the field on the Lions, who are 31st in the league in defense. The Lions are giving up an average of 391 yards per game, and the Packers should have no problem surpassing 400 yards.
The Lions will be without quarterback Matthew Stafford and will also likely be without receiver Calvin Johnson, who is their biggest offensive weapon. That means Daunte Culpepper will start at quarterback. The way the Packers defense has been playing lately (save for the second half of the win vs. the 49ers), the Lions aren't likely to get much going offensively.
This one will be over early, so you can get to drinking and eating.
Packers 35, Lions 10
Steffen: I've been trying to keep a more positive outlook with my predictions lately.
It's just so hard to get really excited about this Green Bay Packers team, especially after they almost ruin an utterly dominant first half against the 49ers by making bizarre halftime adjustments that allowed San Francisco to get back in the game.
Losing team leaders Aaron Kampman and Al Harris to injury will seriously test the mettle of this team and the leadership of Aaron Rodgers. It will be interesting to see how defensive coordinator Dom Capers will adjust the defensive schemes and personnel packages to compensate for the injuries. Who will step up as the leader of the defense? Charles Woodson is playing lights out, but has never been the outspoken type. I see this as an opportunity for Nick Barnett to step up.
Having a team like the Detroit Lions to play while making these changes is a blessing. This is an enormously important game for Green Bay's playoff hopes, so it's unlikely they will get caught looking past the ailing Lions. It's hard to predict anything but a runaway victory for Green Bay.
Why? Well, Detroit's 31st ranked defense. Aaron Rodgers and the Packers offense is firing on all cylinders right now and they have to be licking their chops as they prepare to face the Lions. These sadsacks let the Cleveland Browns hang 37 on them last week. If the league's worst offense can do that kind of damage, what should one of the league's best accomplish?
They should at least match Cleveland's effort and Rodgers will have another big day.
Meanwhile, I believe Dom Capers' scheme was exposed last week as vulnerable to the spread offense. I expect the Lions to come out gunning whether Matthew Stafford is under center or not. With Calvin Johnson likely out with an injury, watch out for a big game for rookie tight end Brandon Pettigrew. They'll make it interesting and score a couple touchdowns late, but ultimately the Lions will fall.
Packers 38, Lions 22
Sarah: The Green Bay Packers are coming off the loss of two key defensive players in Al Harris and Aaron Kampman, and it will be interesting to see how coach Mike McCarthy and defensive coordinator Dom Capers adjust the defense to fill those two holes when the Packers meet the Detroit Lions on Thanksgiving Day.
Thankfully, it doesn't look like Lions' quarterback Matthew Stafford or receiver Calvin Johnson will be playing because of injuries, so Green Bay will likely get the chance to ease into whatever new scheme the coaching staff has come up with. They'll also be facing the likes of Daunte Culpepper, who's about as inept as they come at the quarterback position these days, so the Packers defense should come up with some turnovers.
Aaron Rodgers and the Packers offense will continue to roll. Ryan Grant should continue to be a presence in the running game, and Rodgers will make a few big plays with deep balls to Greg Jennings or Donald Driver.
Really, this should be a gimme. But then, so was Tampa Bay, and we all know what happened there. Still, the wins against Dallas and San Francisco and the resulting playoff implications are motivating this team right now and have at least temporarily changed the attitude in the locker room. This will be win No. 3 in a row.
Packers 31, Lions 10
Brett: God, I love being wrong.
Two weeks ago, I could scant imagine a scenario by which the Green Bay Packers could beat the Cowboys. Sure enough, they silenced all doubters that week and last with two dominating defensive performances. The Al Harris and Aaron Kampman injuries hurt, no doubt, but they shouldn't stop this Packers team from continuing its improbable run.
With or without Matt Stafford, the Lions are terrible. The five touchdowns Stafford threw against the Cleveland Browns defense last week is a lot like a military victory over France. This Green Bay team already dismantled the Lions once this year and should do the same in a must-win. At 6-4, the Packers are in the thick of the playoff race, but with games against the Ravens and Steelers on the horizon they cannot afford to lose to anymore bad teams. Even on short rest, they won't lose this one.
Packers 30, Lions 10
[ad#totalpackers468x60]