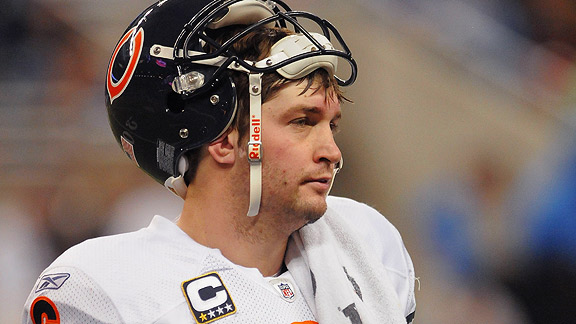 We all know what happens when the Green Bay Packers aren't playing well. We all pile on coach Mike McCarthy (and rightfully so) and general manager Ted Thompson.
Well, in Chicago they do it a little differently. When the Bears are playing poorly, they pile it on their former Messiah, quarterback Jay Cutler.
Cutler has had his share of ups and downs, lately. Actually, he's probably had more downs – a league-leading 17 interceptions and those five picks he threw against San Francisco last week come to mind – but is that any reason to conjure up the name of one of the worst draft busts in franchise history?
If you're Steve Rosenbloom of the Chicago Tribune, it's plenty of reason. In yesterday's column, Rosenbloom, who is apparently mad as hell and not going to take it anymore, referred to Cutler as Jay McNown. The reference is, of course, to Cade McNown, who you probably don't even remember – and for good reason.
The Bears drafted McNown out of UCLA with the 12th overall pick in the 1999 NFL Draft. In other words, McNown was the Bears savior before Rex Grossman became the Bears savior, and later, Jay Cutler became the Bears savior. However, McNown played so poorly in two years with the Bears that they traded him to Miami for a sixth round pick in 2001. He'd never play another down in the NFL.
So obviously you can see the clear parallel to Jay Cutler.
What is that? You can't?
Oh, that's right, Steven Rosenbloom is an idiot. The same idiot that said the Bears would be 13-3 with Cutler at the helm, back in April.
I'm not here to defend the Chicago Bears or Jay Cutler. I said it 100 times if I said it once, Cutler isn't going to be as good as he was in Denver with those guys you call receivers in Chicago. I mean, Devin Hester is your No. 1 guy. Devin Fucking Hester! Does the guy know how to run anything other than a go route?
Anyway, guess who was right, Chicago? Me. That's who.
Jay Cutler hasn't been good this year, but that's certainly not entirely his fault.
In addition to having a bunch of UFL guys posing as NFL receivers, the Bears offensive line sucks. In fact, next to the Packers, it's probably the worst in the NFL. The Bears have given up 19 sacks, which is a middle of the road number, but every time I've seen the Bears play, Cutler is running for his life. The real story of the Bears offensive line becomes clear when you look at their running game.
The team is 30th in the league in rushing. They're averaging 85 yards per game with Matt Forte, a guy who rushed for 1,238 yards last season. That's pathetic.
So, let's add this up, Steve.
Crappy receivers + terrible offensive line + no running game whatsoever = quarterbacks fault.
Hmmm… I don't really see the logic, but you big city folk are way smarter than us country bumpkins.
Actually, let me clue you in. If opposing defenses know your only real weapon is the pass, what do you think they're going to key on? The Bears are one-dimensional and that's why Cutler is playing like crap.
I remember a guy named Favre being put in a similar situation early in his career. He was the only weapon the Packers really had and he ran around and made plays, but guess what? He also threw a boatload of interceptions trying to make things happen. Put some playmakers around Cutler and an offensive line in front of him, and then maybe he can be your Messiah, Chicago.
Right now, it just looks like Chicago is the place where quarterbacks go to die.
[ad#totalpackers468x60]