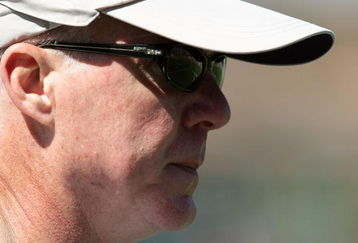 Probably not a surprise that Green Bay Packers GM Ted Thompson is being criticized for not adding more free agents during the offseason, since most of us criticize him for just such a thing on a regular basis.
However, the source of the criticism may be somewhat surprising – scouts and NFL front office personnel that have worked with Thompson.
The Press Gazette's Pete Dougherty spoke to several, and to a man, each said this Packers team would be better had Thompson made some minor free agent investments.
"I have a lot of respect for how (Thompson) is trying to build something," one scout said. "But my god, they're so damn close. You've wasted two years trying to build an offensive line when you could have signed somebody off the street."
Criticizing Thompson's approach to building the Packers offensive line is a recurring theme. Injuries to left tackle Chad Clifton, who had arthroscopic surgery on both his shoulder and knees, and the ineffectiveness of right tackle Allen Barbre have been major problems for the Packers.
"Maybe (Thompson) thinks they're better than they are. It happens all the time. We do it ourselves," the scout said. "Misevaluate. You put too much faith in the development of your own players, whereas sometimes you're better off bringing (a free agent) in and pushing everybody down. That's how you create depth. Bring somebody in over the top of what you've been working with the last few years, and now all of a sudden the guys you've been playing are backups. That's how you get over the top. Instead of working everything from the bottom up, once in a while you take somebody and smash 'em down. That forces depth, forces competition."
Spending big money on free agents isn't the Packers MO, nor should it be, but the team certainly could have used some offensive line and safety help this season. Ironically, the Packers main offseason signing this year, Anthony Smith, was cut by the team when the final roster was set – a move some in the organization question.
The Packers have a lot of talent, but the team's lack of depth at key positions has really been exposed and has cost them at least one game.
Right now, that's the difference between being the second and the third best team in the NFC North.
[polldaddy poll=2107591]
[ad#totalpackers468x60]