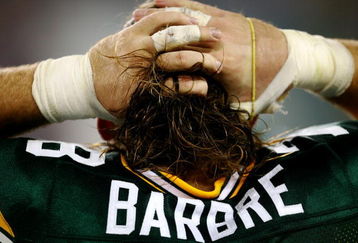 It's become readily apparent once again after the Green Bay Packers loss to the Minnesota Vikings that the Packers' fate this season rests largely on the shoulders of their offensive line.
The line has been terrible this season. Terrible.
So bad, in fact, that they've given up 20 sacks in four games – the most the Packers have given up in a four-game span since sack records begin being kept in 1963. That's historically bad.
This Packers' team has talent. There are playmakers on defense. There are playmakers at the receiver and tight end position. Aaron Rodgers is one of the best quarterbacks in the league, if he isn't laying on the ground.
It's no secret the Packers aren't going to be much of a running team as long as Ryan Grant and his 3.8 yards per carry are manning the backfield, but the Packers' passing game could be deadly. Rodgers alone can carry the Packers to victory, which is why the fate for the remainder of this season lies with the improvement of the offensive line.
And there's a lot to improve.
On Monday night, the Vikings recorded eight sacks. On six of those, the Vikings rushed only four men. The last time I checked, NFL teams played with five offensive linemen, meaning four Vikings were beating five Packers on a regular basis. That's unacceptable.
Rodgers isn't quite ready to panic, although he probably should be.
"I have confidence in those guys," Rodgers said. "We just have to figure out what the best scheme is to handle the pressure. We get a week off to get healthy. Hopefully, we'll get Chad [Clifton] back and we go from there."
Unfortunately, Rodgers is partially to blame for the problem. He's taken sacks that could have been avoided had he thrown the ball away or if the clock in his head was functioning properly.
Offensive coordinator Joe Philbin says Rodgers is overcompensating.
"When you start to overcompensate for things, everything gets out of whack," Philbin said. "[But] we've got to do a better job protecting. I don't know what else we can say. You open up a can of worms and invite teams to come after us. We have to do a better job."
Doing a better job with the current personnel might be a reach, but that's really all the Packers have to hope for at this point. In fact, NFL.com's Jamie Dukes says not drafting a tackle in the first round may be one of Ted Thompson's biggest mistakes.
Allen Barbre, although he has been improving, is consistently overmatched by speed rushers on the right side. Whoever is playing left tackle, whether it be Chad Clifton or Daryn Colledge, has been mediocre at their best. Colledge got worked by Jared Allen last night for 4.5 sacks.
The Packers will take a long look at their blocking schemes and the players' technique during the bye week in hopes to remedy the situation. If the problem is the offensive line's talent level, the Packers are going to be in for a long season.
This team, and Aaron Rodgers, will only go as far as the line takes them.
[ad#totalpackers468x60]