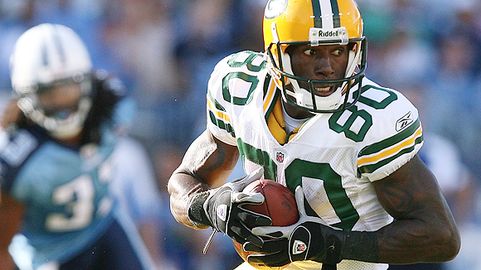 We haven't seen a psychic, but it doesn't take much to know that Green Bay Packers' history will be made when the Packers face the Detroit Lions on Sunday.
Donald Driver needs one catch to surpass Sterling Sharpe as the Green Bay Packers all-time leader in receptions. The last time Driver didn't catch a pass during a game was 116 contests ago.
Driver's next catch will be the 596th of his career. Sharpe finished his Packers career with 595.
That's quite an feat considering all of the great receivers in Packers history. James Lofton is third on the list with 530, followed by Don Hutson (488) and Boyd Dowler (448).
The significance of the accomplishment is not lost of Driver, who was a seventh round pick by the Packers in 1999.
"I would never have predicted it," Driver told Wisconsin reporters this week. "In a million years, if someone said, 'Well Donald, [a] seventh-round draft pick, you're going to be the all-time leading receiver for the Packers,' you would have never thought that would happen. To be this close to it, it means a lot. I think when it's all said and done and the record is broken, I'll be happy to put my name above Sterling for once in a lifetime. Not on everything, but at least I can say I got him on that one."
Driver has been one of the hardest-working members of the Green Bay Packers since he was drafted. He's averaged 77 receptions per season over his career. I remember when he got his first big contract and cried after the deal was finally signed.
Not bad for a guy from Alcorn State who wasn't supposed to stick in the NFL.
Driver has been a class act all the way, and we sincerely congratulate him on the record.
[ad#totalpackers468x60]