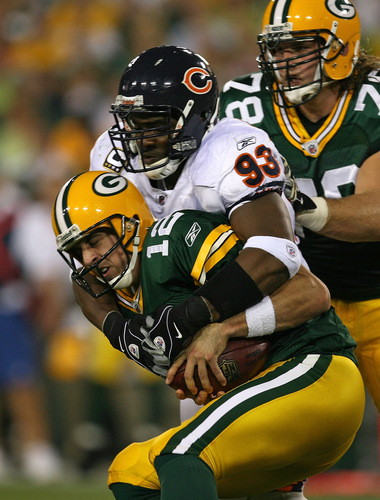 Or kick them while they're down, as it were.
The Green Bay Packers' offensive line was the major reason the Packers vaunted offense couldn't move the ball on Sunday night, and that appears to be the focus going into this weekend's game against the Cincinnati Bengals.
As we noted yesterday, the Packers gave up four sacks and the constant pressure quarterback Aaron Rodgers felt resulted in some quickly and poorly thrown balls. We won't even get into Ryan Grant's whopping 61 yards rushing because, let's face it, the Packers are only going to go as far as their air attack takes them.
A lot of people are pointing their finger squarely at right tackle and first-year starter Allen Barbre, who allowed two sacks on Sunday and looked routinely overmatched. While coach Mike McCarthy gave Barbre a vote of confidence on Monday, saying he will remain the starter at right tackle (at least for this week), some have questioned whether Barbre is the long-term answer.
ESPN's Kevin Seifert actually called for Barbre to be replaced during the Bears game.
Green Bay is going to have to find something better than Allen Barbre at right tackle. Like, now. Otherwise, quarterback Aaron Rodgers isn't going to make it through this game.
Rodgers, of course, did make it through the game, but Seifert is right. If Barbre continues to perform like he did Sunday, the Packers need an alternative. Aaron Rodgers is the franchise, and Aaron Rodgers needs to stay upright.
The Packers could eventually bring in Breno Giacomini to replace Barbre. Giacomini lost a close training camp competition with Barbre for the right tackle spot and may be an upgrade. The coaching staff could also decide to help Barbre with a tight end or running back on a consistent basis, but that's less than optimal for the passing game.
While Barbre was the most glaring example of failure, he wasn't alone.
Pro Football Weekly's Hub Arkush notes that right guard Josh Sitton, also a new starter this season, didn't perform well either.
The Bears brought Rod Marinelli in to fix a front four that has been MIA the past two seasons, but it was the woeful performance of Green Bay's retooled offensive line that made the Bears so effective Sunday night. The entire right side of Green Bay's front wall couldn't stop a cough all night long and the opportunities Rodgers had to set his feet and throw were few and far between.

Green Bay needs a new scheme, different bodies or both up front.
The Press Gazette's Rob Demovsky notes that the Packers coaches could have beef with almost everyone on the offensive line. Chad Clifton gave up a sack and Jason Spitz had an inopportune holding penalty.
However, like most everyone else, Demovsky specifically targets Barbre for getting tossed around. Interesting though, was the coaching staff's admission that Barbre got beat because of his technique, which is correctable.
In grading the film, the coaches deemed Barbre's mistakes to be technical errors and not cases of being overpowered and outmatched. If Barbre had been outmatched physically, he almost certainly would have lost his job. But because they were errors in techniques and fundamentals, they're willing to give Barbre another shot.

"You hope there's a natural cycle of development," Packers offensive coordinator Joe Philbin said. "You've got the competition, corrections, practice and then you've got another competition. Hopefully now that he's had the competition, and he had the corrections (on Monday), and he's going to have the practice during the course of the week, and he's going to have another opportunity (on Sunday), you hope as a coach that from the time you spend and the things that you're doing are making a difference. But time will tell. We're going to see how he is."
Philbin went on to tell the Journal Sentinel's Tom Silverstein he blames the Packers overall offensive woes on the offensive line.
"We can say we've done this offensively in the past, we've done that, we have this talent and that talent," Philbin said. "But right now we're not a very good offense. That's a fact. That's what our performance on film in the game shows. Until we get another opportunity, that's where we are."

The shoulders carrying the heaviest load for the offense's woes belonged to the five starting offensive linemen, who combined to allow four sacks, five direct hits on Rodgers and three penalties that cost the team 25 yards.
The line's inability to block anyone also contributed to the lack of production from the tight end position. Those of us who thought we were smarter than everyone when we drafted Jermichael Finley in the final round of our fantasy football draft got a no show from him on Sunday, primarily because he spent most of his time blocking.
One of the most notable statistics was that the tight ends combined for five catches for 14 yards against the Bears. Ready for a breakout performance on national television, Jermichael Finley was reduced to being a blocker in the backfield instead of a threat down the middle of the field, Silverstein writes.
There isn't any reason to give up on the offensive line yet. Remember, these guys have played all of one regular season game together and they will need more time to fully gel.
So, while there is room for concern, the Packers' coaching staff is at least making the issue a priority.
"The whole offensive line needs to improve from today to Sunday," McCarthy said. "That will be one of the objectives when we go in and make the corrections."
Something tells me the Cincinnati Bengals coming to town will go a long ways towards curing this problem and building some confidence along the Packers' offensive front.
If not, both Aaron Rodgers and Packers' fans could be in for a long season
[polldaddy poll=1997743]
[ad#totalpackers468x60]