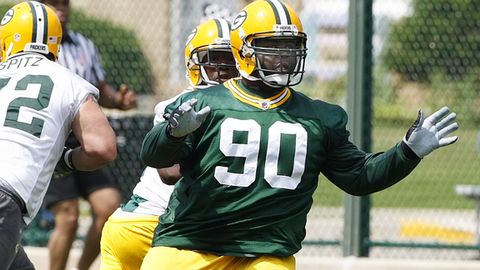 As the Green Bay Packers begin training camp today (finally, football season is upon us!), they open without top draft choice B.J. Raji.
This is somewhat disappointing, considering the Packers have signed all of their draft picks before training camp in the Ted Thompson era. However, it's not the end of the world.
Raji, who played nose tackle at Boston College, won't have a terribly steep learning curve at the NFL level. The Packers will play Raji some at defensive end, because of the presence of Ryan Pickett, but we're talking about the defensive line here, people. These guys don't have to learn a huge playbook like a quarterback or receiver. They don't have to learn to make formation adjustments like a linebacker or a safety. They don't have to constantly communicate with their teammates like a cornerback. These guys plug holes, tackle running backs and chase quarterbacks.
Raji is going to have to make some technique adjustments playing defensive end. The Packers will give him a couple different responsibilities than he has as a nose tackle. He's going to be fine, so long as he doesn't hold out until the last week of the preseason.
The players drafted around Raji, who was selected No. 9 overall, have not signed either. As the Green Bay Press Gazette's Rob Demovsky pointed out, this is likely the main reason the Packers haven't come to terms with Raji.
The sides are believed to be waiting for a deal to get done between Jacksonville and tackle Eugene Monroe (picked eighth) or San Francisco and receiver Michael Crabtree (picked 10th).

Raji and Monroe could be in line for similar financial packages because both play non-skill positions. But Crabtree is believed to be complicating the salary structure of the top 10 not only because he's a skill-position player but because he was once projected as a top-5 pick and reportedly wants to be paid as such.
I expect this all to be resolved next week.
[ad#totalpackers468x60]