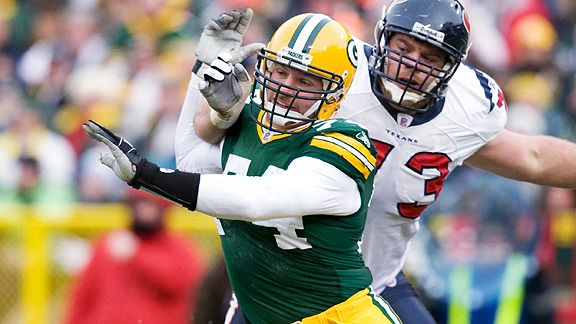 We know more about this year's version of Green Bay Packers now that the team's first mini-camp has concluded.
It has been well documented that former Packers' defensive end turned outside linebacker Aaron Kampman has been a bit uneasy about the position change this offseason. First, he wouldn't even discuss it. When he finally did talk to reporters, he didn't exactly give the move a ringing endorsement, but by most accounts, Kampman has been adjusting.
During the Packers mini-camp Kampman seemed at ease with the transition, which was a nice change of pace from his previously displayed attitude.
"I guess the question is not so much comfortability as just learning how to play it the right way. I guess you could call that comfortability; I don't know. But like I said, we go out there every day and try to get better," Kampman told the Press Gazette.
More telling, I think, is how Packers' coach Mike McCarthy sees Kampman's progress.
"I like what I have seen (from) Aaron Kampman," McCarthy told the Press Gazette. "Aaron has spent a lot of extra time with his position coach (Kevin Greene). He seems comfortable out there in space in the things we are asking him to do."
These, my friends, are good signs.
One of the main battles when the Packers open training camp will take place at right tackle, where three players will be in the mix to replace Mark Tauscher. When camp opens, the No. 1 guy will be third-year man Allen Barbre, who failed miserably when the Packers tried to move him to guard last season.
Despite that failure, there's room for optimism where Barbre is concerned. Barbre played tackle in college and has admitted he was never comfortable at guard last season. While he is transitioning from the left side to the right, the transition from left tackle to right tackle is a much simpler one than from tackle to guard – Barbe will be employing the same blocking techniques and will see defenders coming from the same places that he is used to.
Plus, Packers coaches describe Barbre as an explosive athlete, which, despite his steady play, no one would ever mistake Mark Tauscher for. Already, Packers coaches are praising Barbre for the progress he's shown since last season.
"He's done an excellent job," offensive line coach James Campen told the Press Gazette. "He's had very few mental errors. He just transitioned from the left-handed stance to the right-handed stance, and now is getting comfortable with that. … He's done a very good job."
Certainly starting jobs aren't won in June, but Barbre's progress is notable. There have been several reports of Barbre handling Kampman during drills, and I don't care where Kampman is lining up – that's impressive.
When training camp begins, Barbre will be pushed by Breno Giacomini and rookie T.J. Lang. Lang may provide the biggest challenge to Barbre. Several sources have noted that Lang fits the mold of what the Packers want in their offensive lineman – athletic and mean.
The biggest challenge to Lang will be lack of reps. He'll likely start training camp as the third right tackle and will also spend some time at guard, which could severley limit both his opportunity and development.
Someone who will have no lack of opportunity is Packers' first-round pick B.J. Raji.
Although Raji played nose tackle at Boston College, he has been spending most of his time with the Packers at defensive end. Ryan Pickett is currently holding down the nose tackle position, and in an effort to get their three best defensive linemen on the field Raji has had to adjust to a new position.
The good news is that, although defensive end may not be Raji's best position, the adjustment seems to be going well so far. ESPN's Kevin Seifert spoke to Raji about the change.
Raji said he feels "pretty natural" at defensive end and said that his role is to provide contain only on certain calls. Other times, he has been asked to slant and control the gap between the guard and tackle. Asked if he thought the end could be a playmaking position in this scheme, Raji said: "It could be."

He added: "We have a lot of good defenses in this scheme where we're getting after the opponents and getting upfield. Even though it's a 3-4 defense, at times you can have that a little bit."
Having both Raji and Pickett on the field at the same time provides some major matchup problems for opposing offenses. Who do you double team? If you double team both, by leaving a tight end in on Raji, that limits your passing game. And in either scenario, an opposing offense is putting one man on Cullen Jenkins, who has proven he can get to the quarterback.
Not to present the illusion that 3-4 defensive ends have ever racked up a lot of sacks, because they are most often asked to control the point of attack, but we're talking about well over 1,000 pounds of man between the three starters on the Packers defensive line. Both Raji and Jenkins are quick.
"They're obviously both (Raji and Pickett) big physical guys," defenisve coordinator Dom Capers told Seifert. "They're good athletes for guys their size. They bring a lot to the table. Both of them are going to get double-teamed, and they've got to be able to play those blocks and not get knocked off the ball. We're working Pickett at nose tackle and Raji at end right now, but those guys have to be interchangeable to what we do."
Like I said, matchup problems.
[ad#totalpackers468x60]