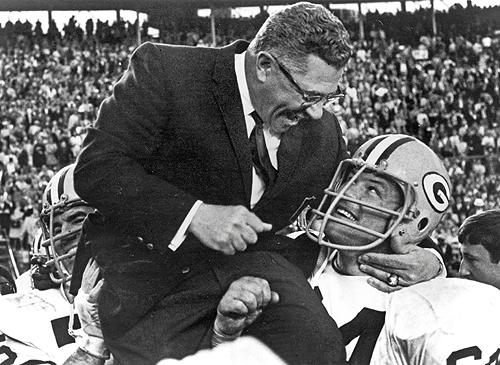 Brett Favre compared himself to Vince Lombardi.
That's the biggest thing I pulled from the former Green Bay Packer's appearance on Joe Buck Live, Monday night.
And this, well, makes me despise that shitbag even more.
When asked how he would respond to fans who questioned how he could play for one of the Packers rivals, Favre had this to say:
"I don't know what to tell them. Vince Lombardi went to the Washington Redskins when he left and his name is on the [championship] trophy. We give that out every year. I don't hear too many people say, 'That damn traitor. He went to Washington.' Now, time heals a lot of things. I have nothing but the highest regard for Green Bay. And I mean that sincerely. Did some things happen there that may have ruffled the feathers for both sides? Yes. But once again, the 16 years I spent there, you can't take it away. I wouldn't change it for anything in the world. And they chose to go in a different direction, and that's OK. I chose to play again, and that's OK. I've had former players, friends of mine, I have family, who say, 'I can't picture you playing anywhere but Green Bay. I can't do it.' It's football. Its' not life or death."
Good comparison, asshole. Did you practice that one? Did Bus Cook script it for you?
Or are you just that fucking stupid?
Tell me if I missed something, but last I checked the Washington Redskins have never played in the same division as the Green Bay Packers. The Washington Redskins have never been a border rivalry. Vince Lombardi never said he wanted to stick it to the Green Bay Packers.
So tell me, Brett Favre, how are you like Vince Lombardi?
I'll tell you how you are not like Vince Lombardi. Vince Lombardi was responsible for seven championships with the Green Bay Packers, which is six more than you're responsible for, if we're counting.
Favre doesn't get it, or is simply too selfish to care. It's something other people are starting to recognize, like ESPN's Kevin Seifert, who had this to say:
If anything, Favre's answer reveals he doesn't fully understand the emotions many Packers fans are feeling. Yes, he played in Green Bay for 16 years. But NFL players don't have the same feelings about rivalries as fans do, or even ex-players from the pre-free agency era. Players change teams too much to truly understand how a word like "traitor" could apply in professional sports.
In other news, Buck's interview confirmed the obvious: Favre will play for the Minnesota Vikings if his arm is healthy, and he is in full control of the situation.
"Coach Childress had asked if I would come to [organized team activities]. Not that I would have to participate. And I totally understood that side of it. I chose not to. You can pick sides on this. I think both sides are right. He wanted me to be there and be a part of the team and things like that. Knowing that there is no guarantee my arm will be like it was before, I chose to stay away."
Essentially, it's like this.
Childress: C'mon Brett, we want you to come in and be part of the team.
Favre: I'll show up when I damn well please.
Childress: OK. Talk to you next week.
[/end] conversation
[ad#totalpackers468x60]