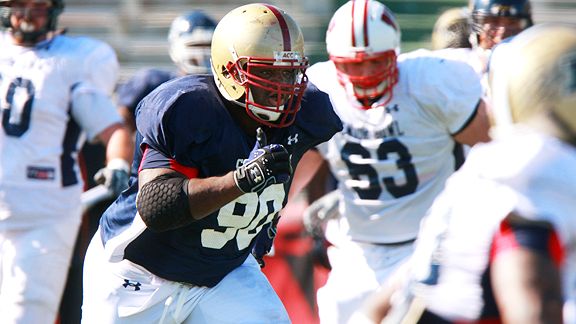 The Green Bay Packers selected defensive tackle B.J. Raji with the No. 9 selection in the NFL draft, taking a player to beef up one of the team's major deficiencies.
In the process, they bypassed a guy with top-five talent in Texas Tech wide receiver Michael Crabtree. The move was surprising in that Packers GM Ted Thompson is said to be the guy who subscribes to the best-available player theory, bar none. Crabtree was obviously that player. ESPN draft guru Mel Kiper rated him as the second best player overall.
While the Packers clearly need to upgrade an atrocious run defense, I predict they will be kicking themselves for not taking Crabtree.
I talked a little bit about why I don't like Raji the other day. Simply, he was a one-year wonder at Boston College with a poor work ethic.
NFL.com has analysis on Raji here. From the analysis:
Compares To: SHAUN ROGERS, Cleveland — Rogers is about three inches bigger than Raji, but both have the awesome ability to change the tide of a game on the field and frustrate coaches by their lack of work ethic away from it. Raji had a good senior campaign, but it was not earth-shattering. You have to look at the whole picture here. Is your team going to get a player motivated and hungry to prove his doubters wrong, or a player his former coaching staff had to constantly monitor.
[ad#totalpackers468x60]