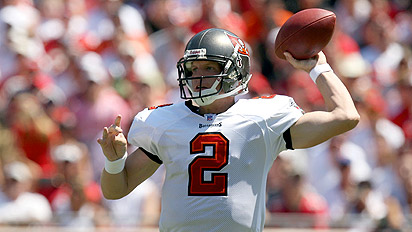 The free agency rumor mill has started spinning and while most of the speculation will revolve around guys like Albert Haynesworth and Julius Peppers, an interesting item came out of Chicago today.
While he will never be confused with his father, Phil, it appears that the Chicago Bears are interested in quarterback Chris Simms, and that interest is mutual.
"Who wouldn't be interested or thinking about the Chicago Bears?" Simms posed to the Chicago Tribune. "For a guy like myself who has been around football a long time and loves tradition and all the stuff that comes with a great NFL franchise, the Bears are at the top of the list with the Green Bay Packers, the New York Giants, the Dallas Cowboys. They are right in that storied-franchise mix."
Chicago considered drafting Simms in 2003, but ultimately chose Rex "Heart of a Champion" Grossman.
Simms spent last year in Tennessee, after five seasons with the Tampa Bay Buccaneers. If he returns to Tennessee, he would be relegated to third on the depth chart, behind Kerry Collins and Vince Young.
Simms had a solid season for Tampa Bay in 2005, throwing for 2,035 yards in 11 games, with 10 touchdowns and 7 interceptions. He began the 2006 season as the starter before rupturing his spleen in the season's third game. Upon his return, he never found his way back on to Jon Gruden's quarterback carousel.
Although he's no superstar, Simms would be an upgrade over returning starter Kyle Orton and the soon-to-be departed Grossman. In fact, we suggested Ted Thompson sign Simms before last season as a backup to Aaron Rodgers, rather than go into the season with two unproven rookies (7th-rounder Matt Flynn and the unimpressive Brian Brohm). For some reason, Ted didn't listen.
The speculation about Chicago's quarterback situation doesn't stop there.
In the age is no factor category, we have another Tampa Bay castoff – Jeff Garcia. The 39-year-old is looking for a new home and one last chance to start. If the Bears don't land Simms, they could make a play for Garcia.
Garcia played well for Tampa Bay the past two seasons. In 13 games last year, Garcia threw for 2,712 yards and 12 touchdowns, against 6 interceptions. Again, Garcia is likely an improvement over Orton, but he's certainly not a long-term solution to the Bears revolving door at quarterback.
Finally, in the leave no stone unturned category, is the remote possibility the Bears could pursue Michael Vick if and when he is reinstated to the league. ESPN's Gene Wojciechowski names the Bears as one of the teams that should consider Vick upon his return:
… the Lovie Smith smother-you-with-support factor, plus the Bears need playmakers and aren't necessarily sold on quarterback Kyle Orton.
The Bears aren't that scary with Simms or Garcia, but a Michael Vick with something to prove Chicago team? This is our concern, dude. After all, Vick did run circles around and through a pretty good Green Bay team during the 2002 Wild Card game at Lambeau Field. If Chicago could ever find a decent set of receivers, the combination of Vick and running back Matt Forte would be awfully dangerous.
This is, of course, all speculation. Chicago won't be able to make any moves until free agency opens on Feb. 27, and even when they do make a move, they will probably bungle it. They are, after all, the Bears, and they deserve nothing but the worst.
[ad#totalpackers468x60]