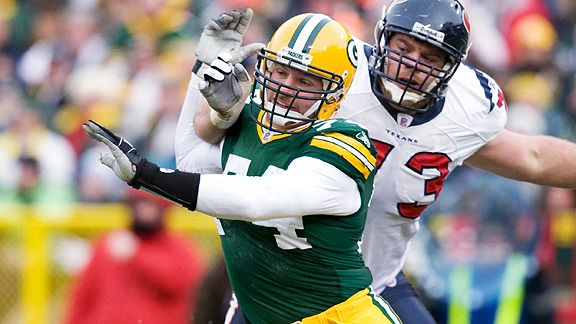 Green Bay Packers coach Mike "Smartest Guy in the Room" McCarthy confirmed (sort of) Aaron Kampman will be moving from defensive end to outside linebacker in new defensive coordinator Dom Capers 3-4 defense, today.
"Well, it depends on what personnel we have on the field. When we line up in the first base defense, yeah, Aaron will be an outside linebacker," McCarthy said.
When asked about Kampman's transition, McCarthy dropped this gem.
"If you break it down, have you ever seen Aaron Kampman drop into coverage on a fire zone? Yes, he has. How many times will he be asked to do that? It depends. … It's not about lining up in the 3-4, you have to line up in the 3-4 front — that's not what going to the 3-4 means. Now, there's different types of 3-4 defenses in the league — there's the traditional 3-4, and that's played differently than some of the other teams, what they're doing with the 3-4. You can get to the 'over' front, you can get to the 'under' front, you can get to all those different types of fronts in the 3-4 defense. So, we're going to utilize our players."
Direct and concise, thy name is McCarthy.
We speculated earlier this offseason that the switch to the 3-4 could produce a linebacking corp of Brandon Chillar, Nick Barnett, A.J. Hawk and Desmond Bishop, (because they are all capable in pass coverage, except for Hawk) but it's true that none of those guys are pure pass rushers, and success in the 3-4 dictates at least one pass rusher at outside linebacker. Aaron Kampman certainly is capable at rushing the passer.
In order to successfully transition to OLB, Kampman will have to lose about 15 pounds. He's currently listed as 265 by NFL.com and, as they point out at Railbird Central, the average 3-4 OLB weighs about 250.
In addition to the Kampman move, I expect the Packers to look hard at the linebacker position in the draft. Check back later this week, as we investigate the Packers' options in free agency, the salary cap and the draft.
[ad#totalpackers468x60]