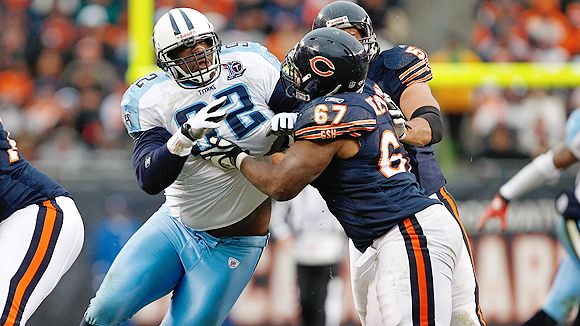 Previously, we looked at the Green Bay Packers free agents, the most notable of which is Mark Tauscher. Now it's time to get down to business, and look at which free agents the Packers can steal from other teams.
Free agency begins today at 11 p.m. CST, and according to the Green Bay Press Gazette, the Packers are $36 million under the salary cap. Pete Dougherty reports:
The Packers have about $96 million in cap commitments this year, and the cap limit is $123 million. But they also pick up about $9 million in cap credits carried over from last year via accounting procedures, so their actual cap limit is $132 million. That means they have about $36 million in cap room.
The Packers' biggest needs are along the defensive line, where they will look for a defensive end and possibly a nose tackle to fit the 3-4 system. The team will also likely look to get younger in a defensive backfield that features Al Harris and Charles Woodson.
On the offensive side of the ball, Green Bay needs to look hard at the tackle position. Chad Clifton's body seems to be breaking down and Tauscher, if he is resigned, is coming off a major knee injury and is on the wrong side of 30.
Secondary needs include tight end, punter and linebacker. While some people would suggest the Packers linebacking corp is solid, I would suggest that there isn't one true playmaker in the bunch, minus converted defensive end, Aaron Kampman.
Who do we like? Here are our top 15 free agents that fit the Packers' needs. Likely salary demands and team needs are factored into the equation just as much as talent, potential, and fit. So, you won't see T.J. Houshmandzadeh on the list because 1. he's going to want too much money, and 2. the Packers' receiving corp is the strength of the team.
1. Albert Haynesworth (DT, Tennessee Titans) – He's the No. 1 available player on just about everyone's board, and he won't come cheap. Several sources have reported he is already as good as a member of the Washington Redskins, who are said to be ready to pony up an average of $15-16 million per season. That's a lot of money for a guy who hasn't played a full season in his career. He's talented and at 6-6, 320 would clog the middle of the defensive line nicely for the Packers, but Haynesworth has missed a total of 10 games in the past three seasons. Unfortunately, Haynesworth is no Reggie White, who was rarely injured throughout his career (and therefore worth every dime). And we all know Ted Thompson is no Ron Wolfe, so let's dash the notion of bringing Haynesworth to Green Bay right now.
2008 stats: 51 tackles, 8.5 sacks
2. Bart Scott (ILB, Baltimore Ravens) – Although Ray Lewis gets the glory, Scott is a solid inside linebacker for the 3-4 system. He's averaged 92 tackles over the past four seasons and is five years younger than Lewis (who's also a free agent). Scott made the Pro Bowl after the 2006 season, which was his best (103 tackles, 9.5 sacks, 2 interceptions). Baltimore is making a late push to re-sign Scott, so he may not even make it to the market. If he does, expect him to command big money.
2008 stats: 82 tackles, 1.5 sacks
3. Ray Lewis (ILB, Baltimore Ravens) – Lewis has been the heart and soul of the Baltimore defense for years. He plays with fire and passion – something the Packers sorely lacked last season. The guy is a future Hall of Famer, and probably the best interior linebacker since Mike Singletary. While he isn't showing any sign of decline (averaged 113 tackles over the last three seasons), Lewis is 33. If it weren't for his age, Lewis would be at the top of this list. As it is, he probably has two top-notch years left. The Ravens reportedly aren't making a strong push to re-sign him and Lewis could provide the youngest team in the NFL with a great veteran leader. Lewis, however, seems to have his eyes on the Dallas Cowboys as a landing spot.
2008 stats: 117 tackles, 3.5 sacks
4. Antonio Smith (DE, Arizona Cardinals) – Smith is a 6-4, 285 pound defensive end that's played in the 3-4. RealScouts ranks Smith as the second best defensive end in free agency (behind Julius Peppers, who has since been franchised). Others have ranked the Cowboys Chris Canty (who also played in the 3-4) ahead of Smith, but Smith has put up slightly better numbers over the past two years – 84 tackles, 9 sacks for Smith; 80 tackles, 6.5 sacks for Canty. Smith has also played in one more Super Bowl than Canty.
2008 stats: 41 tackles, 3.5 sacks
5. Stacy Andrews (RT, Cinncinnati Bengals) – Andrews is coming off a torn ACL suffered at the end of last season. However, reports indicate this Andrews' rehab is ahead of schedule and he expects to be ready to go by June. Just by looking at the Packers' current offensive line, we know that linemen play with balky knees throughout their careers, and the injury shouldn't affect Andrews from being effective in 2009. Plus, the guy is a house, at 6-7, 342, and he's only 27.
6. Bryant McFadden (CB, Pittsburgh Steelers) – McFadden was inserted into the starting lineup for the Super Bowl champs midway through last season and didn't disappoint. Pittsburgh, who employs the 3-4, led the league in fewest passing yards allowed. McFadden, who replaced Deshea Townsend in the starting lineup, is a big, physical guy who can cover and play the run. The 27-year-old will also likely be a less expensive option than DeAngelo Hall and carries less baggage, which makes him more appealing.
2008 stats: 41 tackles, 2 interceptions
7. DeAngelo Hall (CB, Washington Redskins) – Hall was often brilliant and often a pain in the ass in Atlanta, where he came in as a first-round draft choice and made two Pro Bowls. Oakland paid him big money before last season and cut him at the halfway point. He then signed with the Redskins (who have a loaded secondary), where he worked his way into the starting lineup in place of the highly-regarded Carlos Rogers. There are concerns about Hall's maturity level, but he seems to have learned his lesson last season, as Washington is making a major push to re-sign him. His undeniable speed, talent and seemingly newfound maturity make Hall the top cornerback on the market, and at 25, could be the upgrade the Packers are looking for at the position. He will be costly, however.
2008 stats: 25 tackles, 2 interceptions (7 games with Washington)
8. Chris Canty (DE, Dallas Cowboys) – Canty is highly regarded in some circles and has been mentioned as a target of the Packers. He played in the 3-4 in Dallas – a system he is ideal for. He is solid against the run and able to tie up blockers with his 6-7, 304-pound frame. However, Canty's numbers are average. Canty's high for tackles was 43 in 2007. His high for sacks was 3.5 in the same season. The word most associated with Canty is potential, and entering his fifth season in the league Canty is easily a guy that could be a free agent bust.
2008 stats: 37 tackles, 3 sacks
9. Igor Olshansky (DE, San Diego Chargers) – Much like Canty above, Olshansky has been suggested as a target for the Packers because he played in the 3-4 system in San Diego. Much like Canty, Olshansky's numbers are average. However, he is a hulk (6-6, 309) who will occupy blockers and allow linebackers to make plays in the 3-4 (see Shawn Merriman). He's also only 26.
2008 stats: 29 tackles, 2 sacks
10. Jon Stinchcomb (RT, New Orleans Saints) – Stinchcomb is durable (16 starts in each of the last four years) and has fewer miles than most of the other tackles in this free agent class (29, entering his 7th season). Stinchcomb has also helped keep Drew Brees off of his ass the past two seasons. In 2007, the Saints led the league in fewest sacks allowed (14), despite leading the league in passing attempts. Last season, Brees was sacked only 13 times, despite 635 attempts. Despite this, Stinchcomb is not considered a top-tier free agent, and may be available to the Packers.
11. Khalif Barnes (LT, Jacksonville Jaguars) – The 26-year-old Barnes has started 16, 14 and 15 games for Jacksonville the past three seasons. During that time, Jacksonville has had a potent running attack with Maurice Jones-Drew and Fred Taylor. Over the 2006-07 seasons, the Jaguars led the league in rushing yards per game with an average of 154.1. Barnes could be a viable replacement for Chad Clifton.
12. Michael Boley (OLB, Atlanta Falcons) – His production dropped last year, after a stellar 2007 campaign (109 tackles, 3 sacks), but some attribute that to the new coaching staff underutilizing him. Boley finished the season in the nickel package, and at 26, Boley could be the kind of bargain free agent Ted Thompson likes. NFL.com's Steve Wyche has suggested that Boley could play opposite Aaron Kampman or alternate with Kampman when the former defensive end lines up at his natural position.
13. Phillip Buchanon (CB, Tampa Bay Buccaneers) – Buchanon has been somewhat of a bust in his first two stops in the NFL (Oakland and Houston), after being drafted in the first round out of Miami, but has been solid in Tampa Bay the past three seasons. Buchanon has speed, and has the potential to take the ball to the house any time he gets his hands on it. He's also 28, and with the Packers looking to get younger in the defensive backfield could be a viable option if his price drops. Agent Drew Rosenhaus is reportedly seeking $12 million guaranteed, which the Packers almost certainly will balk at.
2008 stats: 52 tackles, 2 interceptions, 1 touchdown
14. Jabari Greer (CB, Buffalo Bills) Ranked as the 19th best player in free agency and fourth best corner in free agency by CBS Sports, Greer has shown playmaking ability. He returned two interceptions for touchdowns last season. He's young (27) and solid, and possibly more importantly, will not command a top-tier contract. Greer is not a shut-down guy, but would be a solid second cornerback.
2008 stats: 38 tackles, 2 interceptions (10 games)
15. Sam Koch (P, Baltimore Ravens) – Let's pretend for a second that Jeremy Kapinos isn't the answer at punter (Read: he isn't). Would it be awful if we went out and signed a punter in free agency who would keep the position squared away for the next 10 years? Well, Sam Koch is potentially that guy. He's 26 and is used to kicking in the cold weather (he attended college at Nebraska). Plus, he has a foot made of steel. Koch averaged 45 yards per kick last season and put 34 of 84 balls inside the 20. The only drawback on Koch is that he is a restricted free agent and will cost the Packers a draft pick as compensation if signed. The pick is reportedly a 2nd rounder, which is a steep price to pay for a punter.
2008 stats: 45 average, 39.9 net, 34 inside the 20
15.5. Hunter Smith (P, Indianapolis Colts) – Smith, unlike Koch, would cost the Packers nothing but his salary, and may be a viable alternative. The stats are solid, but the question mark about Smith is if he can kick outdoors. He's spent his entire career in the friendly confines of Indianapolis' RCA Dome. Still, an upgrade over Kapinos, and at 31 still has four or five solid years left.
2008 stats: 44.2 average, 38.8 net, 23 inside the 20
[ad#totalpackers468x60]