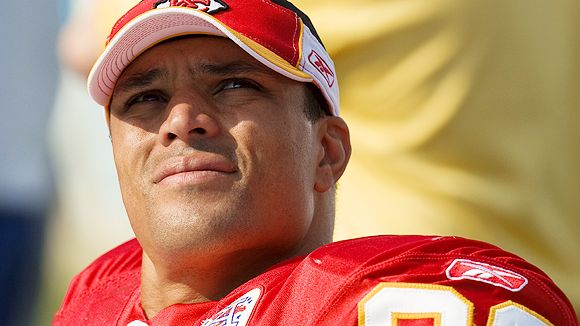 Many things have gone down in Packerland over the past 24 hours, none more notable than the Green Bay Packers failure to land TE Tony Gonzalez from the Kansas City Chiefs before the NFL trade deadline, yesterday.
According to the Journal Sentinel, master of disaster Ted Thompson offered Kansas City a 3rd-round choice for the future Hall Of Famer. Chiefs' president Carl Peterson demanded a second, and decided to keep the 32-year-old when Thompson's offer of compensation didn't increase.
Despite Gonzalez claiming he plans to play for three more years, I think a 3rd-round draft choice is fair compensation. It's hard to justify dealing a 2nd-round pick for a guy on the downside of his career, when that same pick could well turn into a guy who starts for your organization for 10 years.
Although Thompson has made similar decisions in the past (remember the time we couldn't give the Raiders a 4th rounder for Randy Moss?) that made me want to punch him in his stupid face, he did the right thing in this case.
And speaking of wanting to punch people in the face, that's apparently what Gonzalez wanted to do to Peterson this morning. In an interview with Fox Sports' Jay Glazer, Gonzalez said he felt as if he had been lied to by Peterson.
"Last night I talked to Carl and I point-blank asked him what it would take to get it done. I wanted to know if it could happen with a fourth (-round pick). He started talking about a second and a fifth like the Shockey deal. Nobody is going to trade a second for a 32-year-old tight end. All along Carl said he would do something that works for both parties. Then he talked about how he traded a third for Willie Roaf, and he made it pretty clear to me that's what was going to get it done. That was certainly fair.

"I know teams offered a third and in the end, Carl made the asking price a second. I'm very disappointed that he didn't go through with it after he told me he was going to try to make it happen. I've been around this league a long time, it's a business. There's nothing I can do about it. I was pissed off about it, but I'll get over it. I won't let it affect my play and my preparation."
This was a curious decision by Peterson. The Chiefs are 1-4 this year and in full rebuilding mode. What sense does it make to keep a player at the end of his career, who has asked for a trade, when you can get a 3rd-round pick for him, especially when the only thing you're playing for is a top-three draft slot?
There is no reason. The Chiefs have zero chance of making the playoffs this season. Zero. Take the draft pick, idiot.
Meanwhile, back in Green Bay, Justin Harrell returned to the practice field today after spending the first six weeks of the season on the PUP list.
"I think he's in very good shape. We'll use the full week of practice to determine his status," coach Mike McCarthy said of Harrell, according to the Green Bay Press Gazette.
Let's hope that when this guy gets on the field, he's finally able to live up to his first-round draft status.
[ad#totalpackers468x60]