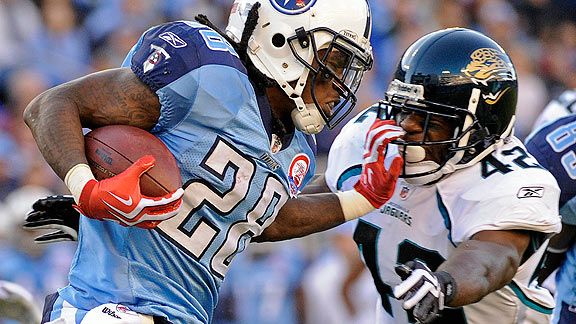 Enough with the Brett Favre bullshit. I am exhausted and I'm letting it go.
Let's talk about more important things, like next week's Green Bay Packers' opponent, the Tennessee Titans, who face the Indianapolis Colts on Monday Night Football. The Titans are 6-0 going into a home game against a pretty average (and one the Packers demolished 34-14 a little over a week ago) Indianapolis Colts team.
Someone asked me today if the Packers could possibly beat the Titans. Well, fuck yeah, the Packers can beat the Titans. This is the NFL and the any given Sunday rule always applies, although going into the game, barring any major injuries tonight, the Titans are playing better football, have a talent edge and will be playing at home.
I wouldn't say there are many, if any, household names on the Titans, but they haven't been doing it with smoke and mirrors by any means. Tennessee is employing a good old fashioned slobber-knocking football game plan, and executing nearly flawlessly. They play great defense, ranking third overall in the NFL (allowing an average of 268 yards per game), fourth against the pass (179 ypg) and 10th against the run (89 ypg, 3.6 ypc). The Titans run the football well behind the combination of LenDale White (314 yards, 8 TDs) and rookie, Chris Johnson (549 yards, 5.3 ypc). Finally, they're well coached – Jeff Fisher year in and year out is probably in the top three coaches in the league.
On paper, none of this looks good for for the Packers.
The Packers haven't proven they can run the ball against anyone this year, which will allow a top-notch defense to play the Green Bay passing game almost exclusively. The Packers defense hasn't proven they can consistently stop the run and I'd expect a big day from a talent like Chris Johnson. Lastly, I expect Mike McCarthy to get outcoached by Jeff Fisher the way he got outcoached by the Giants' Tom Coughlin in last year's NFC Championship game, if not worse.
That being said, I realistically believe the Packers have a shot. Here's why:
First, Tennessee will be playing on a short week, meaning less time to prepare for Green Bay. If they score a win over Indianapolis, which most everyone expects them to do, the Titans are ripe for a letdown this Sunday.
Second, in looking at the Titans' wins this year, none is terribly impressive. They've beaten Cincinnati, Houston and Kansas City – three teams competing for the No. 1 draft choice in the 2009 NFL Draft. They handled Minnesota 30-17 in Nashville, but we all know what kind of disarray that team is in. The two toughest games Tennessee has played this year – Jacksonville and at Baltimore – were decided by seven and three points, respectively. Obviously, Tennessee wins with defense, but they also let decent teams hang around until the end. If the Packers play to their potential on Sunday, they will be there at the end.
Lastly, the fact that the Packers are finally getting healthy (thanks bye week!) not only bodes well for this week against Tennessee, but for the rest of the season.
Safety Atari Bigby and DE Jason Montgomery both returned to full practice today. CB Al Harris and WR James Jones are both practicing on a limited basis and could be ready for Sunday. A bust thus far in his career, DT Justin Harrell has been practicing with the team for two weeks after spending the first six on the physically unable to perform list. The Packers will need his big body on the defensive line – an area where they've have been sorely thin – moving forward and I expect him to contribute against Tennessee.
I fully expect a lot to fall on Aaron Rodgers this Sunday and for the second half of the season, but also expect him to handle it with aplomb.
So there you have it. Welcome back Green Bay Packers. Now, let's kick some ass!
[ad#totalpackers468x60]