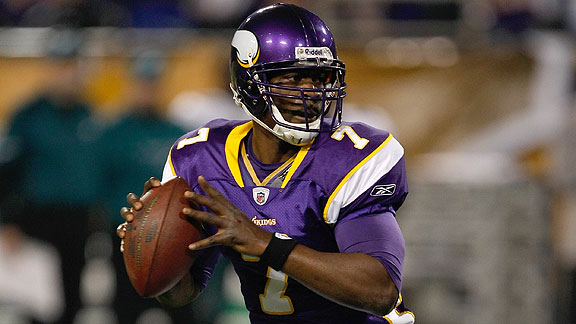 It's the reason the Minnesota Vikings won't win the Super Bowl, but that didn't stop Sports Illustrated's football guru, Dr. Z, from picking them to do just that.
I offer you these two nuggets to back up my theory.
1. The Rex Grossman Theory
Very few people will debate the Chicago Bears fielded a pretty nice team two seasons ago. Great defense that stopped the run, solid running game, nice offensive line, minimal injuries. One problem: Rex Grossman. Even though Rex somehow guided the Bears to the NFL's championship game, he took a complete crap when he got there. Even faced with an Indianapolis Colts team that, much like their own, was a consistent playoff choker, the Bears superior defense could not save them. And so it was proven that when two teams that typically could not win the big playoff game if their collective lives depended upon it meet up in the big game, the one with the better quarterback gets the nod from fate.
2. The Dr. Z Theory
Pretty simply, the guy can't pick a Super Bowl winner in the preseason to save his life. Last season he picked the Saints, who promptly crapped their pants and went 7-9. When I was a youngster, the good doctor was famous for picking the Jim Kelly-lead Buffalo Bills year after year to win the big one. With such weight on their shoulders, the Bills put up a nice, round 0-for-4.
Despite Dr. Z's demonstrated prognostication impotence, I believe more strongly in the Rex Grossman theory.
Tarvaris Jackson + Super Bowl = hahahahahahahaha!
If the Vikings win a playoff game this year, they will have overachieved.
[ad#totalpackers468x60]