Posts tagged
Vince Young
The Green Bay Packers have released backup quarterback Vince Young. Repeat. The Green Bay Packers have released backup quarterback Vince Young.
Vince Young has the Green Bay Packers backup quarterback job locked up. Oh, wait. No he doesn't. Mike McCarthy says he'll compete with B.J. Coleman.
The Green Bay Packers have released quarterback Graham Harrell. Call it a mercy killing. That clears the way for Vince Young to be Aaron Rodgers' backup.
Vince Young is a member of the Green Bay Packers and because of that, B.J. Coleman and Graham Harrell are on notice. Young will be given a shot to be No. 2.
The Green Bay Packers appear to be uneasy about their backup quarterback situation. They're working out Vince Young, who hasn't played in over a year.
Green Bay Packers quarterback Aaron Rodgers will avoid the Madden curse. Rodgers lost to Detroit Lions receiver Calvin Johnson in the final four of fan voting for the Madden 13 cover. Here's a recap of the curse.
The Chicago Bears are contenders once again and not soon enough! Just ask linebacker Lance Briggs. We break down his comments and the situation.
Philadelphia Eagles receiver DeSean Jackson is already crowning his team, much like quarterback and resident moron Vince Young did last season. Here's what Jackson had to say and what we think about it.
The Philadelphia Eagles have made some great moves this offseason. So, of course we already know they're going to win the Super Bowl this season or at least that's what they'd have us believe. May as well not even play the season.
Although teams can't begin signing free agents until Friday, this is the second day they could negotiate with them. Several clubs took advantage and reached agreements with players. The Green Bay Packers jumped into the fray by reaching an agreement with Mason Crosby. Here are today's developments that could impact the Packers' quest to repeat […]
Jermichael Finley has been somewhat of a pain in the ass to the Green Bay Packers since they drafted him as a 21-year-old out of Texas in 2008. In his rookie season, he twice deflected blame in the media for plays he clearly screwed up – the first time in a loss to Tennessee when […]
No, I'm not going to start doing a Green Bay Packers-related link dump every day, or even every week. I get much more satisfaction from writing stuff and then letting you guys shit all over it. Besides, Railbird Central already does that, and does it better than I would ever care to do it, with […]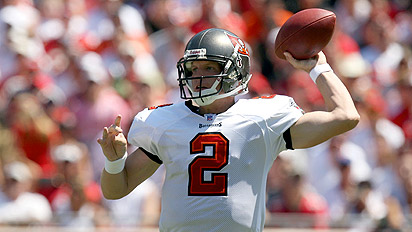 The free agency rumor mill has started spinning and while most of the speculation will revolve around guys like Albert Haynesworth and Julius Peppers, an interesting item came out of Chicago today. While he will never be confused with his father, Phil, it appears that the Chicago Bears are interested in quarterback Chris Simms, and […]