Posts tagged
USC
Seattle Seahawks coach Pete Carroll = douche. What else is there to say? Carroll still thinks the Fail Mary was a pretty amazing play. Because of course.
Well, the Green Bay Packers got their pass rusher. He's not the guy we thought they'd get though. The Packers chose USC defensive end Nick Perry (6-3, 250). Perry entered the draft after his junior season. He was named first-team All Pac-12 and recorded 9.5 sacks in 2011. He had only four sacks as a […]
Green Bay Packers quarterback and Cal product Aaron Rodgers was spotted wearing USC gear around the locker room this week. We've got the photo and video that explains why.
The Green Bay Packers have had their share of draft busts over the years. Some have been epic (Tony Mandarich), while others have snuck out of town almost unnoticed (Terrence Murphy). Well, thankfully we're here to dredge up your past failures, point our gnarled, crooked, judgmental fingers at you and cackle. For you've shamed the […]
There's no guarantee there will be NFL football on Sundays this year, but there still may be some football on Sunday. And no, I'm not talking about the Lingerie Football League. That's not football, it's something to masturbate to. I'm talking about college football. Specifically, the Pac-10. The Pac-10 is discussing the possibility of playing […]
Green Bay Packers' linebacker Clay Matthews has been the subject of questions since USC teammate Brian Cushing, a linebacker for the Houston Texans, was suspended four games for violating the NFL's policy on performance-enhancing drugs. We were among those quick to wonder whether Matthews, who went from a walk-on at USC to a first-round NFL […]
On Friday, Green Bay Packers' outside linebacker Clay Matthews' former teammate at USC and reigning defensive rookie of the year, Brian Cushing, was suspended by the NFL for four games for violating the NFL's policy on steroids and related substances. There's been quite a bit of chatter that Cushing, who plays for the Houston Texans, […]
Well, maybe not no one – Chicago Bears' coach Lovie Smith probably still wants to coach there, but he hasn't exactly been given a recipe that's likely to result in success. After firing half of his staff, simply because the Bears' organization was too cheap to do what they really wanted to do and fire […]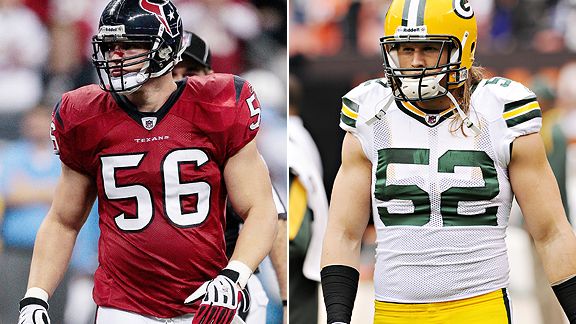 Both Fox Sports and ESPN have reported that Houston Texans linebacker Brian Cushing has been named NFL Defensive Rookie of the Year. Cushing was a runaway winner, receiving 39 of a possible 50 votes. Buffalo Bills safety Jairus Byrd finished second with six votes, followed by Green Bay Packers linebacker Clay Matthews with three, and […]
The Green Bay Packers know first hand how good Clay Matthews is. Matthews has made a major impact on the Packers No. 1 ranked defense this season, culminating in his winning NFC Defensive Player of the Week for his play against the Baltimore Ravens. Matthews tallied six tackles, two sacks and a forced fumble in […]
Guest Post
A bright spot in the otherwise dreary news coming out of Green Bay following the Packers' Monday night loss at Minnesota is rookie linebacker Clay Matthews, who stripped Vikings' running back Adrian Peterson late in the second quarter and ran the ball back for a 42-yard, game-tying touchdown – his first NFL score. Matthews also […]