Posts tagged
Sean Payton
The Minnesota Vikings were hot after Bill Parcells, but, like everything else they do, the Minnesota Vikings failed. Parcells, who was apparently only considering the New Orleans Saints, will not be coming out of retirement. Too bad.
A hard lesson was learned Thursday. Don't ever put a bounty on anyone. The NFL brought down the hammer on the New Orleans Saints for having a bounty program and the consequences are harsh.
Guest Post
Here are three key matchups in the Green Bay Packers tilt with the New Orleans Saints. The operative word is communication.
ESPN continued their NFL power ranking series with the coach rankings. So where is this year's Super Bowl winning coach? The Green Bay Packers' Mike McCarthy came in fourth. Leading the way was the New England Patriots' Bill Belichick and his three Super Bowl wins.
I thought it appropriate to pass on this story in anticipation of tonight's season-opening (finally!) tilt between Brett Favre's Minnesota Vikings and the New Orleans Saints. Some of you may well be pulling for the old gray mare. I, of course, will be pulling for him to get killed (although slightly less so than usual, […]
In 2006, the Green Bay Packers disposed of coach Mike Sherman. The team targeted several potential replacements, two of which are coaching against each other in the NFC Championship game this weekend. Those men are Minnesota Vikings coach Brad Childress and New Orleans Saints coach Sean Payton, who were joined by Mike McCarthy, current Dallas […]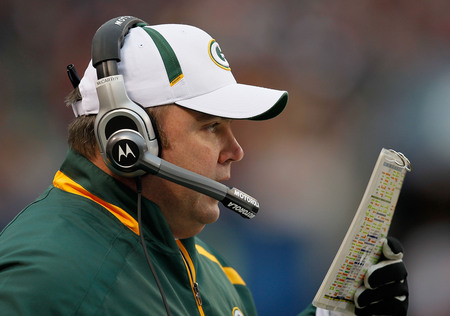 Green Bay Packers coach Mike McCarthy got no love in the NFL Coach of the Year race, despite some speculation that he might. As we predicted, the Cincinnati Bengals' Marvin Lewis ran away with the award. McCarthy finished… well, he didn't get any votes, so he didn't really finish anywhere. Oddly enough… or perhaps not […]
When the Green Bay Packers fired defensive coordinator Bob Sanders in January, coach Mike McCarthy interviewed Gregg Williams, then the former Jacksonville Jaguars defensive coordinator, and Mike Nolan, then the former San Francisco 49ers coach. Williams' story is well documented. He had interviewed with New Orleans Saints coach Sean Payton prior to visiting Green Bay. […]