Posts tagged
Rex Ryan
New York Jets coach Rex Ryan says he preferred Calvin Pryor over Green Bay Packers safety Ha Ha Clinton-Dix in the draft. There must be bulletin board material here somewhere!
You didn't know it, but Peyton Manning's release by the Indianapolis Colts is relevant to the Green Bay Packers. Here's how, along with the top five potential destinations for the quarterback.
It's a good thing the Green Bay Packers squared off against the Pittsburgh Steelers in Super Bowl XLV. Had they faced two-time AFC Championship game losers, the New York Jets, the Lombardi trophy would currently reside in New Jersey. No, I'm serious. Jets coach Rex Ryan said so. And you know he's not a fat, blathering, idiot who just loves to hear himself talk.
That's right, Rex Ryan, coach of the New York Jets, former Total Packers Cunt of the Week, foot aficionado and generally the smartest guys in the room (just ask him!) is saying the Green Bay Packers will not repeat as Super Bowl champions.
Well, he didn't exactly say that, but he said it by default when he guaranteed a Jets win in Super Bowl XLVI while sitting courtside at a Knicks game over the weekend.
Guest Post
Another week, another scandal involving Rex Ryan and the New York Jets. In what is becoming routine, the team went into damage control mode again after several foot-fetish videos surfaced online last week allegedly showing Ryan's wife, Michelle, seductively modeling her feet in a variety of locations. According to ESPN, Ryan said the matter was […]
Just because I felt like it. Total Packers Cunt of the Week: New York Jets coach Rex Ryan. Just because you're fat, ignorant and talk louder than everyone else, that doesn't make you right. How about just coaching football and shutting your fat fuck mouth for a change, Rex? Because every time I see you […]
No, I'm not going to start doing a Green Bay Packers-related link dump every day, or even every week. I get much more satisfaction from writing stuff and then letting you guys shit all over it. Besides, Railbird Central already does that, and does it better than I would ever care to do it, with […]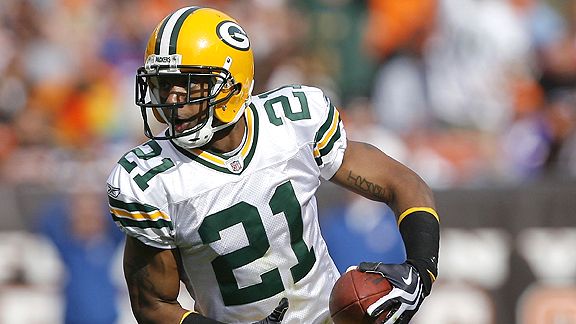 Green Bay Packers cornerback Charles Woodson won the NFL Defensive Player of the Year on Tuesday by a wide margin. On Wednesday, he picked up the Sporting News' NFL defensive player of the year award, which is voted on by 636 players, coaches and executives. Woodson again finished first by a wide margin, receiving 241 […]