Posts tagged
Ray Edwards
Minnesota Vikings defensive end Jared Allen is a dipshit, but we didn't know he liked feeling other dudes' junk while on the field. Well, he does. Here's his explanation for punching Ray Edwards in the balls.
The three teams competing for second place in the NFC North have been working real hard to take home that trophy this offseason. Here are the latest developments from Chicago, Minnesota and Detroit.
Guest Post
In yet another showing of just how much the Minnesota Vikings suck, defensive end Ray Edwards told the media this week he'd rather be a boxer than play for the team next season. Edwards made his professional boxing debut Friday night and thinks he has a better future in the ring than on the field. Really, we're talking about the Minnesota Vikings here, so who could blame him.
The Minnesota Vikings have used their franchise tag on linebacker Chad Greenway.
The move is significant because the Vikings also have two other key starters headed toward free agency — receiver Sidney Rice and defensive end Ray Edwards.
Well, let's be honest. There are a lot of things wrong with the Minnesota Vikings, which has us in Green Bay pretty much ecstatic. We really don't have the time or the will to list everything here. The Vikings suck and they can rot in fucking hell. During Sunday's 31-3 dismantling at the hands of […]
I think we can all agree, thanks to the Green Bay Packers, we can stick a fork in the Minnesota Vikings. They're dead. Their season is officially over after the Packers thoroughly dominated them and old man Brett Favre in a 31-3 victory at the Metrodome. None of us thought it would be as easy […]
Oh, those poor Minnesota Vikings. They've become the NFL's freak show. Not only does their team, at 3-6, suck, but no one likes head coach Brad Childress, quarterback Brett Favre is now recognized more for sending photos of his cock to Jenn Sterger than anything he's doing on the football field, and the team's early-season […]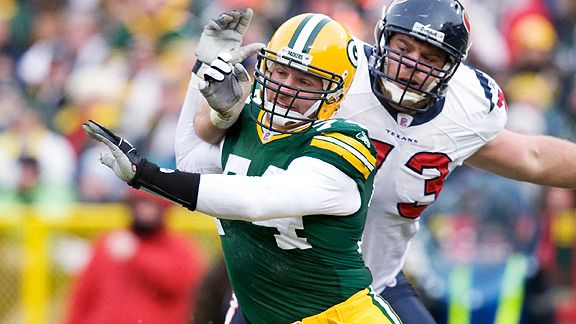 The Green Bay Packers' Aaron Kampman is a free agent and we've speculated on several occasions why he's unlikely to be back with the team for the 2010 season. Chief among those reasons is Kampman didn't fare well converting from a 4-3 defensive end to a 3-4 outside linebacker. For that reason alone, Kampman is […]