Posts tagged
Jon Gruden
There is seriously something wrong with ESPN analyst Jon Gruden. Sure, he thinks Damarious Randall is a suspect tackler, but what the hell is going on with your face?
Johnny Manziel sat down with Jon Gruden for a chat and to watch some film of former Green Bay Packers quarterback Brett Favre. Manziel was impressed.
The NCAA tournament is down to the Sweet 16. We pick the best Green Bay Packers from each of the remaining 16 schools. How's that for some March Madness?
Now that Brett Favre is supposedly retired for good, he needs something to do besides collect evil glares from Deanna and text lewd messages to the tart he met at the local Big Star. That something, at least according to the Lord Brett Favre himself, is coaching or television work. Favre was interviewed by Hattiesburg's (Miss.) NBC affiliate at his football camp on Thursday, telling the station he's starting a new career.
It's no secret that we have no love for ESPN and their so-called brand of "journalism" here at Total Packers. That is, with the exception of Erin Andrews, Rachel Nichols and Hannah Storm, who are some hot fucking broads whose lips may or may not be moving. And yeah, I know Hannah Storm is in […]
Well, the Green Bay Packers aren't even at the halfway point of their season and the Mike McCarthy watch has already begun – at least in some circles. I've never been a fan of McCarthy. In fact, last season when everyone was blaming defensive coordinator Bob Sanders for the Packers failures, I suggested they look […]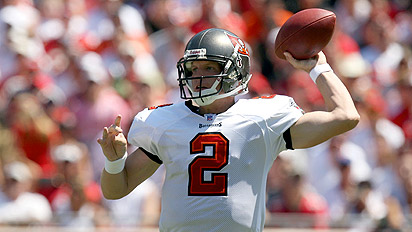 The free agency rumor mill has started spinning and while most of the speculation will revolve around guys like Albert Haynesworth and Julius Peppers, an interesting item came out of Chicago today. While he will never be confused with his father, Phil, it appears that the Chicago Bears are interested in quarterback Chris Simms, and […]
No one wants Brett Favre. Well, except for the scumbag, tampering Minnesota Vikings and probably Jon Gruden. Brett filed his reinstatement papers today, which will essentially force the beloved Green and Gold's hand one way or another. Meddler and NFL commissioner, Roger Goodell, meanwhile, said he wouldn't act for 24 hours in hopes that the […]