Posts tagged
Bryant McKinnie
Fred Smoot allegedly organized the Minnesota Vikings Love Boat excursion and nailed two hookers with a double dong. Now, he's shed more light on the cruise.
Sure, there's a football game to be played between the New Orleans Saints and Indianapolis Colts, today, but the Super Bowl is about a lot of things. Like partying, for instance. And no one does it quite like Minnesota Vikings tackle Bryant McKinnie. You know, the guy who got kicked off the Pro Bowl squad […]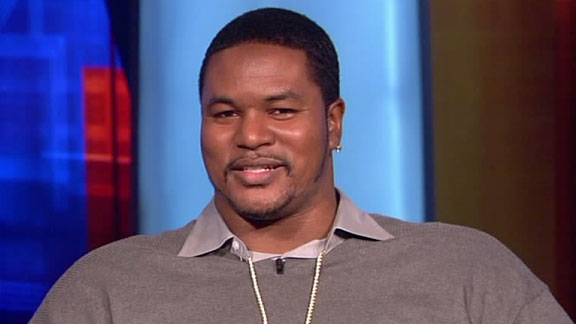 The Minnesota Vikings continued their long history of classy behavior over the weekend when tackle Bryant McKinnie, who had no business being in the game anyway, got kicked off the NFC Pro Bowl squad. How does one do such a thing? Well, skipping practice and not telling anyone is a good start. McKinnie blamed his […]
If only the NFL could idiot proof the Pro Bowl voting process. You know, make people prove they're not complete fucking morons before they're allowed to vote. Obviously, if there were any such measure in place, it didn't work this year. We told you which way the voting was going last week, and it turned […]
I hate to say this, but most fans of professional sports are idiots, which is why I hate the fact that fans have a say in which players play in the respective all-star games. I should put a disclaimer here, because I don't lump Green Bay Packers' fans in with most sports fans. Their passion […]
I believe The Simpson's Nelson said it best… Minnesota Vikings tackle Bryant McKinnie has been suspended four games for violating the league's personal conduct policy. McKinnie faces a felony charge from a fight outside a Miami nightclub in February. The suspension will cost him $764,706 of his $3.25 million salary.