Posts tagged
Bart Starr
It's the question of the greatest Green Bay Packers quarterback of all time. The answer is simple or it should be, but not to the clowns who voted on this.
Brett Favre was scheduled to make his grand return to Lambeau Field on Nov. 9. Now, that isn't going to happen because Brett can't go it alone.
Green Bay Packers quarterback Aaron Rodgers has himself an idea. That he should have a sit down with Brett Favre and Bart Starr for fans. For the fans, man!
Green Bay Packers quarterback Aaron Rodgers was presented the Bart Starr Award by Bart Starr on Friday in New York for his work in the community. Here are photos.
The Green Bay Packers have had 15 coaches in their long history. Here's how we rank the Green Bay Packers coaches from No. 15 to No. 1. No surprise at the top.
Bart Starr is a Green Bay Packers legend… as a player. He didn't duplicate that success as a coach and now says the decision to coach was the biggest mistake of his life.
We had a chance to sit down with Green Bay Packers legend Bart Starr to talk some football. Bart enlightens us on Vince Lombardi, Aaron Rodgers, Johnny U and how the game has changed.
We represented at the Green Bay Packers Hall of Fame Induction Banquet, where coach Mike Holmgren took his place among the Packers elite. Here's a look at how it went down.
Former Green Bay Packers general manager Ron Wolf says Brett Favre is the greatest Packer of all time. We respectfully disagree. Here's who ranks ahead of him.
Certainly, this is another subjective list, but it's hard to argue with the Green Bay Packers as the franchise with the best quarterbacks in NFL history. The important thing to note here is quarterbacks is plural, so this isn't a Johnny Unitas vs. Joe Montana argument. NFL.com's Dave Dameshek recently took a look at every NFL […]
We've got a sexy little treat for you this fine Friday morning — one of our favorite Green Bay Packers fans, Ashlynn Brooke. If you're unfamiliar with Ashlynn or her work, get over to Google or just click the link above to check out her site. I will warn you, it's decidedly unsafe for both […]
I read Adam Rank's article on the best quarterbacks in Green Bay Packers history with some interest. I thought the list would be fairly predictable, with either Brett Favre or Bart Starr ending up at the top. My personal selection is Starr, simply because he won five championships. Favre, of course, only won one, despite […]
From one great Green Bay Packers' quarterback to another. Well, not exactly. Bart Starr was on the Brian Kenny radio program the other day, where he touched on various subjects, including your least favorite ex-Green Bay Packers' quarterback Brett Favre and our main man, Aaron Rodgers. Interestingly, Starr seemed to infer that Favre's success this […]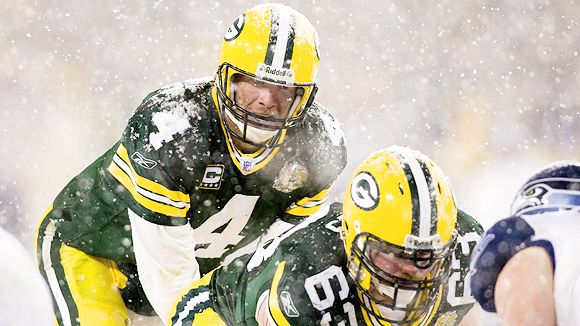 That's right, we're talking about none other than Brett Favre. Actually, we're not talking about him, the Atlanta Journal Constitution's Mark Bradley is talking about him, and calling him the most overrated athlete ever. In fact, Bradley (who will now forever be known around these parts as a douchebag that knows nothing about sports, and […]