Posts tagged
Antrel Rolle
The Chicago Bears signed safety Antrel Rolle this week and we were all real impressed. We're even more impressed after hearing Rolle's reason for signing.
It's all of the NFL free agency news you need to know not involving the Green Bay Packers and what we think about it. Here's the wrap of day one of this nonsense.
Green Bay Packers tight end Jermichael Finley is being recruited to join the New York Giants, by safety Antrel Rolle. Seems like a perfect fit to us!
The Green Bay Packers will face either a fired up New York Giants team this weekend or a New York Giants team in disarray. Hell, maybe both. The Giants took an epic loss on Sunday, blowing a 21-point fourth quarter lead to the division rival Philadelphia Eagles. Put the Packers in place of the Giants […]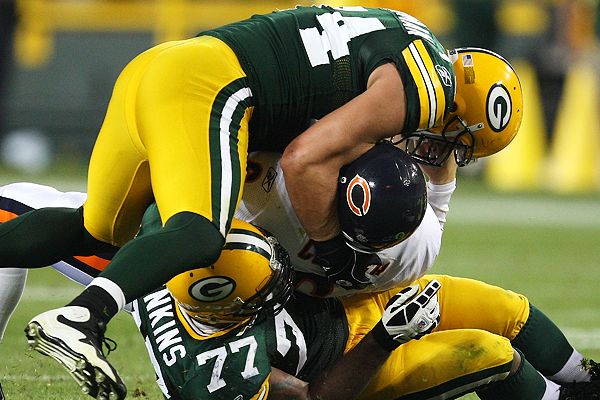 Although it will be quieter today than it was yesterday, we'll again keep running updates throughout the day with the latest news at the top of the page. Check out the day one free agent rundown here. ———- OK, the Aaron Kampman saga continues to get weirder. The Eagles have refuted the report below that […]
We're going to update this post throughout the day simply because there already is a lot going on and there will be a lot more in the free for all known as NFL free agency. The most recent news will be at the top. ———- Safety Antrel Rolle was the last big signing of the […]
Arizona Cardinals' free safety Antrel Rolle is a name that's probably on the Green Bay Packers radar. Why, you ask? Rolle is under contract with the Cardinals. Well, that contract isn't going to fly in Arizona. Rolle is due $8 million in base salary and a $4 million roster bonus on March 5. Although Rolle […]