Posts tagged
Andy Reid
There's all kinds of awkward stuff going on at the NFL's annual meeting in Phoenix. Green Bay Packers coach Mike McCarthy and GM Ted Thompson are all business though.
Former Green Bay Packers cornerback Al Harris is back in the NFL as a coach with the Kansas City Chiefs. Here's where we relive Harris' remarkable career, including the moment Matt Hasselbeck would love to forget.
Cullen Jenkins probably wished he was still with the Green Bay Packers right now. Jenkins got into a sideline fight with coach Andy Reid during the Philadelphia Eagles preseason game Monday night.
ESPN continued their NFL power ranking series with the coach rankings. So where is this year's Super Bowl winning coach? The Green Bay Packers' Mike McCarthy came in fourth. Leading the way was the New England Patriots' Bill Belichick and his three Super Bowl wins.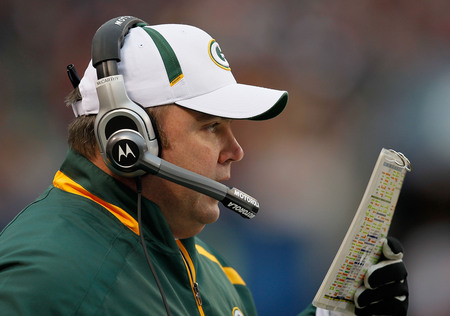 Green Bay Packers coach Mike McCarthy got no love in the NFL Coach of the Year race, despite some speculation that he might. As we predicted, the Cincinnati Bengals' Marvin Lewis ran away with the award. McCarthy finished… well, he didn't get any votes, so he didn't really finish anywhere. Oddly enough… or perhaps not […]