Justin Harrell
Today is one of the most important days in Green Bay Packers history. The Packers did something in recent history that changed the face of the franchise. Take a look to relive this historic moment.
Green Bay Packers defensive end Mike Neal will miss significant time after undergoing knee surgery. Unfortunately, the similarities between Neal and former Packers first-round bust Justin Harrell just keep getting stronger.
The Green Bay Packers have decided to release linebacker Brady Poppinga and defensive tackle Justin Harrell, both of whom have been disappointments since signing big-money deals. We look back on the greatness that was(n't).
An offseason with no one to watch over them is about to conclude. You can bet your ass some members of the Green Bay Packers will show up to training camp out of shape. Here are the odds-on favorites.
The Green Bay Packers have had their share of draft busts over the years. Some have been epic (Tony Mandarich), while others have snuck out of town almost unnoticed (Terrence Murphy). Well, thankfully we're here to dredge up your past failures, point our gnarled, crooked, judgmental fingers at you and cackle. For you've shamed the […]
We all knew it was only a matter of time until Green Bay Packers defensive end Justin Harrell suffered his annual season-ending injury. Somehow, Harrell managed to stay on the field throughout the preseason this year, but Sunday, Harrell had to be helped off with a knee injury. Today came confirmation that Harrell tore his […]
At the end of every summer, the Green Bay Packers end up cutting a couple veteran players whose release comes as a surprise. Last year, it was receiver Ruvell Martin and safety Anthony Smith. Here's a list of several players who could potentially be on that list this year. Justin Harrell, defensive tackle — The […]
We're not totally ready to write off Green Bay Packers defensive lineman Justin Harell, but we're pretty close. Since being drafted 16th overall in the 2007 draft, Harrell has done next to nothing, spending most of his time on injured reserve. Harrell has totaled 28 tackles and no sacks in three seasons. This year appears […]
No, that honor will go to No. 1 overall pick JaMarcus Russell, who was dumped by the Oakland Raiders after three seasons and will go down as one of the all-time great busts. Green Bay Packers defensive lineman Just Harrell is in the next group, though. Harrell is one of nine of the 32 players […]
The Green Bay Packers have made some missteps in the draft under Ted Thompson. I questioned whether A.J. Hawk was a bust the other day (he is, people, stop kidding yourselves), but as of this morning, 70 percent of you still wanted to give him another year before making a determination. Fair enough. Another guy […]
Gettin' paid, bitch! All of this came out on the first day of the Green Bay Packers' OTAs, which, for the uninitiated stands for organized team activities. OTAs are basically a way for coaches to get the team together and start practice before the NFL officially allows them to start practice. OTAs are not mandatory, […]
Following yesterday's news that Green Bay Packers' defensive end Aaron Kampman will move to outside linebacker in defensive coordinator Dom Capers' 3-4 scheme, there was news today questioning whether cornerback Al Harris is fit for the scheme, and suggesting defensive tackle Justin "the Big Bust" Harrell will move to defensive end. We'll start with Harris, […]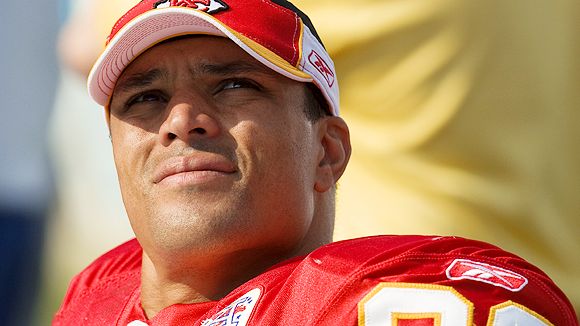 Many things have gone down in Packerland over the past 24 hours, none more notable than the Green Bay Packers failure to land TE Tony Gonzalez from the Kansas City Chiefs before the NFL trade deadline, yesterday. According to the Journal Sentinel, master of disaster Ted Thompson offered Kansas City a 3rd-round choice for the […]