Houston Texans
We take a look back at the Green Bay Packers big win over the Houston Texans. The Packers still have something to prove and Randall Cobb is the offense.
The Green Bay Packers had one choice Sunday night — thrash the best team in the league — the Houston Texans. And so they did, 42-24, saving their season in the process.
The Green Bay Packers and Houston Texans square off Sunday night. Here's what to watch for, including the Packers implosion and Wisconsin's own J.J. Watt.
Green Bay Packers vs. Houston Texans? Who cares when we can look at Houston Texans cheerleaders!
Here's a look at the game no one cares about — the Baltimore Ravens versus the Houston Texans — and the main fucking event — the Green Bay Packers versus the New York Giants.
Here's a look at Saturday's Wild Card playoff games — Detroit Lions vs. New Orleans Saints and Cincinnati Bengals vs. Houston Texans. We tell you what to expect and what we expect the results will be.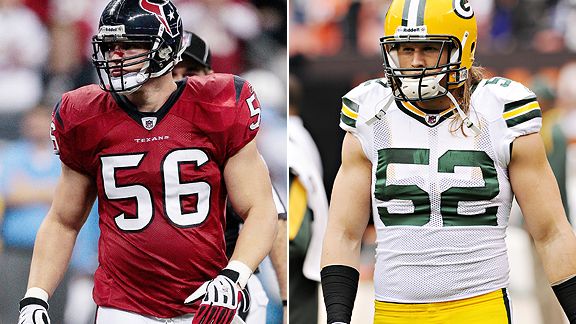 Both Fox Sports and ESPN have reported that Houston Texans linebacker Brian Cushing has been named NFL Defensive Rookie of the Year. Cushing was a runaway winner, receiving 39 of a possible 50 votes. Buffalo Bills safety Jairus Byrd finished second with six votes, followed by Green Bay Packers linebacker Clay Matthews with three, and […]
With a nod towards the puff of smoke the Green Bay Packers slim playoff chances went up in yesterday, I thought perhaps a little musical number might be in order to summarize where the Packers are at this point in the season. So, without further pomp and circumstance, I will say that this has always […]