defensive line
It was the Green Bay Packers biggest position of weakness before the draft and it's their biggest position of weakness after the draft. Defensive line.
The Green Bay Packers are weak at four positions entering the 2014 offseason. Here are the culprits and why they need to be fixed. Let's point some fingers!
Daniel Muir is getting praise from all around and probably has a roster spot sewn up, but his status tells us something else — the Green Bay Packers many offseason acquisitions on the defensive line pretty much suck.
Who's going to start for the Green Bay Packers on the defensive line? Who's going to make the team? You know damn well we've got the answers.
A lot of people seem to think the Green Bay Packers have a hole to fill on their defensive line, with defensive end Cullen Jenkins expected to depart in free agency and Johnny Jolly making stupid decisions somewhere in Houston. Football Outsiders named defensive line as the team's biggest post-draft hole and several experts suggested it was the Packers' biggest need going into the draft.
There's speculation Johnny Jolly's second arrest for codeine possession, which put his NFL career in serious jeopardy, will force the Green Bay Packers to reevaluate re-signing defensive end Cullen Jenkins. Jenkins, who had seven sacks in 11 games in 2010, will be one of the most sought-after defensive free agents whenever free agency begins.
There were a couple of surprises during the first day of the Green Bay Packers' OTAs open to the public. Ryan Pickett, who's played defensive tackle his entire career, was lining up at defensive end with the Packers' starting defense. Last year's first-round pick B.J. Raji took Pickett's place at nose tackle. Whether the move […]
The statement alone is preposterous – the Green Bay Packers defensive line will lead the team to a Super Bowl title – but the statistics back it up. We're talking about the Defensive Hog Index, developed by Cold Hard Football Facts. The Green Bay Packers rank first this season and that's significant because, since it's […]
No, it wasn't lost on us. We pointed out how well the Green Bay Packers defense played in week one both during the game and in the aftermath. That, however, has been somewhat lost in the blather surrounding the terrible performance of the Packers offensive line. It should be noted, though, both Cullen Jenkins and […]
The Green Bay Packers have made some missteps in the draft under Ted Thompson. I questioned whether A.J. Hawk was a bust the other day (he is, people, stop kidding yourselves), but as of this morning, 70 percent of you still wanted to give him another year before making a determination. Fair enough. Another guy […]
With training camp beginning at the end of the month, I am starting to get excited for the upcoming Green Bay Packers season. Since we're in the down time between the Packers mini-camp and training camp, I figured now is as good a time as any to get you excited too. There are some very […]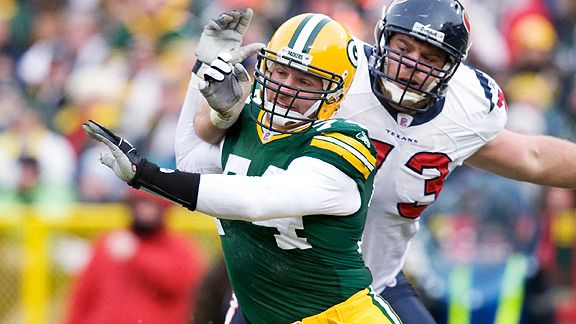 We know more about this year's version of Green Bay Packers now that the team's first mini-camp has concluded. It has been well documented that former Packers' defensive end turned outside linebacker Aaron Kampman has been a bit uneasy about the position change this offseason. First, he wouldn't even discuss it. When he finally did […]